Tips for Using Limited Access eBooks
Many of the eBooks available through the library are limited to a specific number of users and may limit the number of pages that can be printed or saved.  Most commonly, they may be limited to one or three users at a time. These details are highlighted in the examples below:
This EBSCOhost eBook is available to 3 users at a time and printing/saving is limited to 60 pages: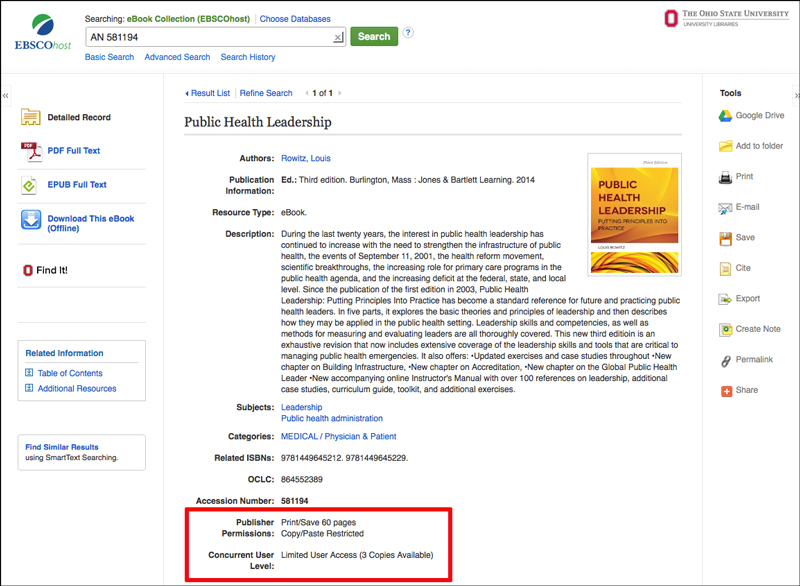 This ProQuest eBook is limited to 1 user at a time and copying/printing/downloading is limited to 83 pages: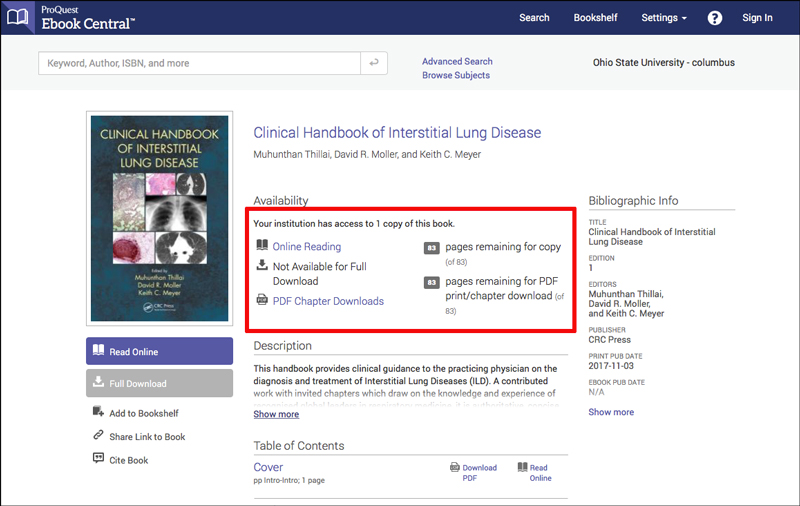 If the book is in use by the maximum number of simultaneous users, you will see a message stating that all available copies of the book are currently in use like the examples below from EBSCOhost and ProQuest.  When you see this, please wait a few minutes and try again: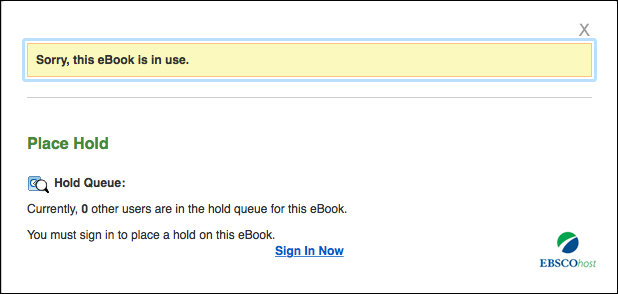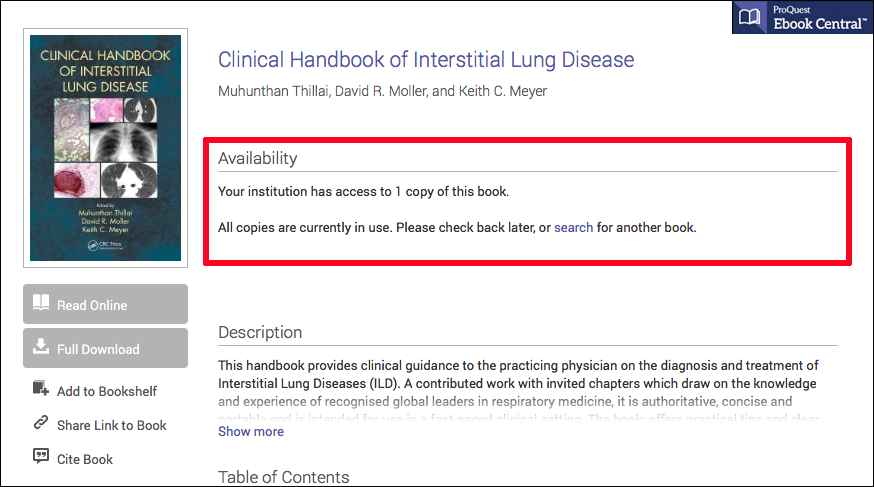 Tips for Maximizing Access to Limited Use eBooks
 

Access the book and use the print or download option to either physically print or create a PDF of the chapter/section of interest, keeping in mind the limited number of pages available.
Close your browser window as soon as you have retrieved the needed book content to make it available to other users. This will allow you to keep a copy of the chapter or section and read/study it at your leisure while others have access. Reading the book in the browser window or leaving the window open while not actively using the eBook will make that user seat unavailable to others.
If you are having trouble accessing a book, try again at off-peak times, such as weekends, early mornings, or later in the evening.
Full Download/Download Offline Options
 

Some books are available for offline download, as seen in the EBSCOhost eBook example above. We do not recommend using offline download for books that are being used as textbooks. This option works like borrowing a book from the library and that copy will not be available to other users for several days, until either the checkout period ends automatically or it is "returned" early by the user, whether the book is actively being used or not. 
We also do not recommend using the Hold Queue for EBSCOhost eBooks. Using this will check the book out for 3 days once it becomes available and make it unavailable to other users.
Your Contact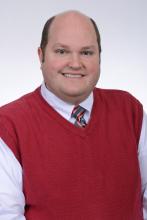 (he/him/his)
Collection Development Librarian
Resource Management