Off-Campus Access to Library Resources
All Library databases, eBooks, and eJournals are available remotely through the OSU libraries off-campus access system.  Links to resources on the HSL website that require authentication are set up to automatically prompt you to login when outside the OSU campus or medical center networks.  
Simply click on the resource link, and you'll be directed to the log-in screen automatically (if a log-in is needed for that resource). The off-campus proxy system can tell if users are trying to access a resource from off campus, and will automatically prompt users to log in from off campus when needed. The off-campus proxy system will bypass the login screen for users that are on campus. 
If you encounter security warnings while accessing resources off-campus, please contact ejournals@osumc.edu for assistance.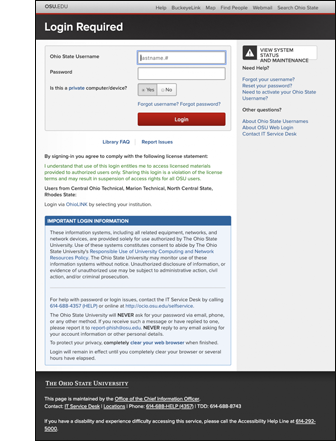 When needed, you will be prompted to login with your Ohio State Username (lastname.# or MedCenter ID).
If you need to activate your Ohio State Username, a link is available on the right hand side of the login screen. For help with login or password issues contact (614) 688-4357 (HELP) or 8help@osu.edu.
Once you have successfully logged in, you will have access to library resources as if you were on campus.
If you get a blank white screen when attempting to log in via the Off-campus sign in, that is a sign of an OSU account issue that needs to be reported through the
University Libraries Service Desk.
*Use links within the library web pages to maintain your connection to the off-campus access system. Using bookmarks or other links may disconnect your session.