Off-Campus Access to Library Resources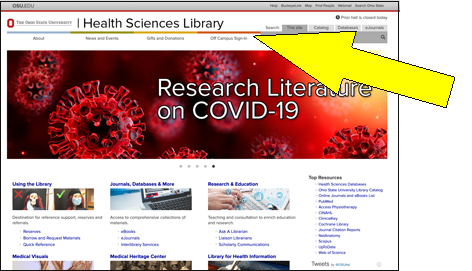 All Library Databases, eBooks, and eJournals are Available Remotely
 
Use the "Off Campus Sign-in" link, located in the top navigation of every Health Sciences Library page, for remote access.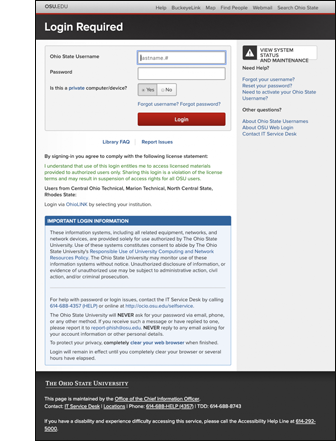 You will be prompted to login with your Ohio State Username (lastname.# or MedCenter ID).
If you need to activate your Ohio State Username, a link is available on the right hand side of the login screen. For help with login or password issues contact 688-HELP or 8help@osu.edu.
Once you have successfully logged in, you will have access to library resources as if you were on campus.
If you get a blank white screen when attempting to log in via the Off-campus sign in, that is a sign of an OSU account issue that needs to be reported through the
University Libraries Service Desk.
*Use links within the library web pages to maintain your connection to the off-campus access system. Using bookmarks or other links may disconnect your session.