460B Computer Lab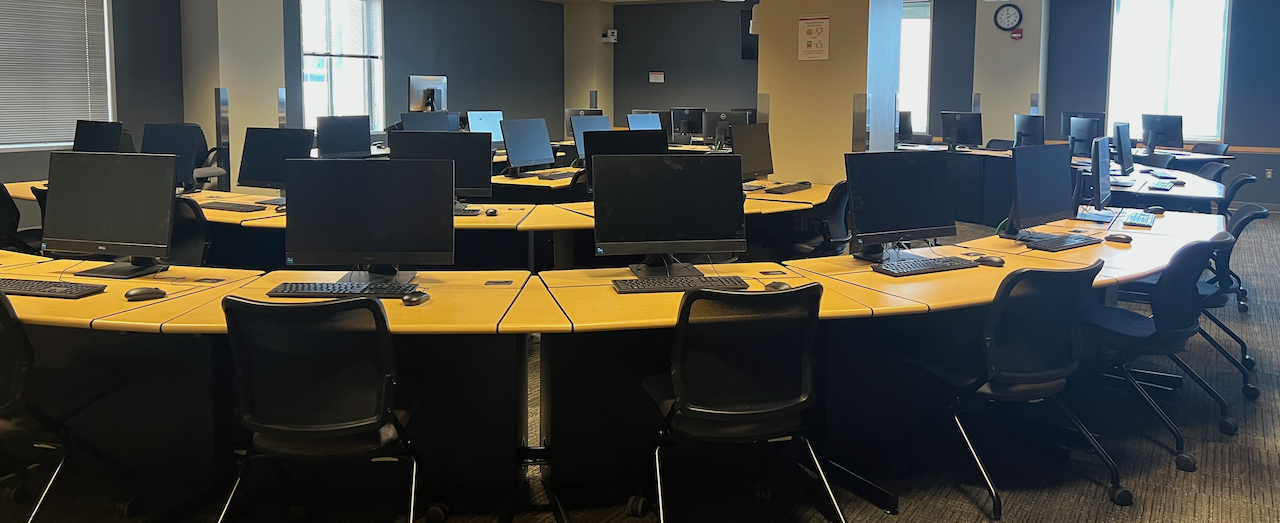 The Prior Hall 460B Computer Lab, part of the Health Sciences Library's EdTech Incubator collaboration technology zones, is open and available to reserve for classes and online testing and assessments. The lab is scheduled through OSUWMC Information Technology's Events & Video Production team. Currently, only employees and/or students with Wexner Medical Center network credentials can reserve/use the computer lab; expanded user groups will be added in the future.
Residency Testing Coordinators should fill out an Events and Video Production form to schedule a test. For further information visit OSUWMC Prior Hall 460B Informational Page.
Building Access
All OSU students, faculty and staff may access Prior Hall during the Health Sciences Library's normal operating hours. However, all access is still via BuckID or Medical Center badge-swipe only. Each person entering the library must swipe his/her/their own ID. Non-compliance will result in the loss of your library access privileges.
BuckID holders: BuckID holders who previously had access to Prior Hall still have access. Any newly issued BuckIDs will also include swipe access to the building.
Medical Center badge holders: some Medical Center badges include swipe access to Prior Hall. If your Medical Center badge does not allow you to swipe into Prior, you will need to obtain a BuckID. Appointments to obtain a BuckID can be made by visiting the BuckID appointment webpage.
 If issues arise on test day, immediately call the MedCtr IT ServiceDesk at (614) 293- 4357.
Please use only the workstations which are visible. Do not raise or lower any workstation.
There are active Purell stations by each of the restrooms on the 4th floor.
Software Installation and Browser Compatibility
It is the requestor's responsibility to conduct all system checks or test browser compatibility in preparation for the event.
Contact the MedCtr IT ServiceDesk at (614) 293-4357 or self-submit a ticket at least three weeks before the exam with software and testing needs.  Less than three weeks' notice of any software needs may reduce the chance of having the required technology in place.
The requestor may be required to provide the software and/or proof of license to use prior to the event.
Food Policy
Food is not permitted in the computer lab.
Hardware
Dell 5490 AIO (All in One)
Processor:
11th Gen Intel® Core™ i5-11500
Memory:
8 GB, 1 x 8 GB, DDR4