Material Gifts
The Health Sciences Library (HSL) accepts donations of materials such as books, anatomical models and multimedia. Journals are generally NOT accepted unless needed to fill in gaps or replace missing or damaged issues. Prior to any donation of journals, a description of the collection including titles and volumes (or years) must be sent to the HSL for review.
All items accepted become the PERMANENT PROPERTY of the HSL. Items not needed for the HSL will be donated to other libraries, donated to organizations sending materials to areas of need, sent to our re-sale partner Better World Books or recycled. Through our work with Better World Books, the HSL and The National Center for Family Literacy earn a percentage of net sales. HSL earnings are used to buy new materials for our collections.
Gifts are deductible from taxable income in accordance with provisions of federal income tax laws. The donor is responsible for obtaining their own appraisals of their gifts. Where applicable, copyright, literary property rights and legal titles are given to the Health Sciences Library.
A copy of the Health Sciences Library's Gift Agreement Form must accompany your material donations.
Your Contact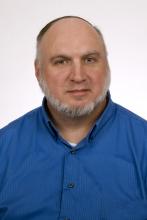 Print Resources Specialist
Resource Management