Bones and Models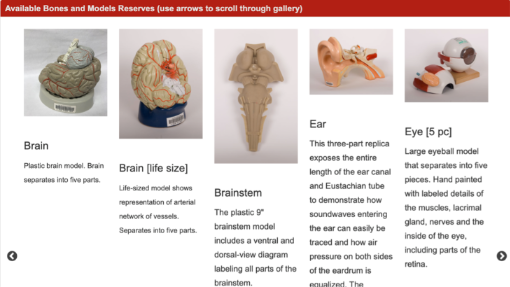 A selection of
anatomical models is available for check-out. Models are available on a first come, first served basis.
Borrowing Policy:
At one time a student may check out for a 2-hour loan period:
Two bone bags OR One model OR One full skeleton.
Renewals are not permitted.
Models must stay in the library at all times. The library does not accept requests for use outside the library.
All guides and parts must be present at the time of return. Returns must be made at the Public Services Desk at HSL.
Models are required to be returned 15 minutes prior to the library closing each day, or late fees will be assessed. Check library hours here.
Fines for Bones & Models items:
$5.00 per hour overdue (maximum $100)
Library visitors should confirm due dates at the time of checkout with circulation staff or by checking their library record here.