Bones and Models Policy for Outside Library Use
The Health Sciences Library has bones and models on reserve for student use for two-hour checkout periods, on a first-come, first-serve basis, and must stay in the library. Students studying in the library have priority use of the Health Sciences Library's bones and models at all times. Requests for bones and models for use outside the library must be submitted to the Public Services Manager or Reserve Library Associate. The following guidelines must be met for approval:
Must be a current OSU student, faculty, and/or staff to place requests for bone and/or model for outside library use. Any bones and/or models approved for outside use will be checked out on the requestor's library record and assumes all responsibility for library materials during the time of checkout. 
Must be for an educational purpose or event and not for personal use. 
Must place a request through our Request to Use Bones and Models Outside the Library Form, Monday through Friday, at least 3 days prior to the date of needed use. Communicated approval from the Public Services Manager and/or Reserve Library Associate is required before any materials are lent out for outside library use. 
May borrow a maximum of 3 bones and/or models at one time. 
Only plastic bones and/or models may be allowed for use outside of the library. No real bones may be requested for outside library use. 
The library has the discretion not to approve requests when the above guidelines are not met or during times of high demand (exams, assignments, etc). 
The maximum checkout period for materials used outside the library is 24 hours. Materials must be checked out and returned to the Health Sciences Public Services desk during normal library operating hours after use. DO NOT USE THE BOOK DROP. The requestor will be responsible for any materials returned late and/or damaged. Late fines and replacement fines are as follows:
Fines for reserve items are:
$5.00 for each hour late (maximum $100)
Fees for replacement models, bones, or parts are assessed at current market value on a case-by-case basis. 
Your Contact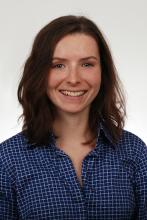 (she/her/hers)
Public Services Manager
Public Services