Reserves
Due to health and safety considerations, the library has modified its borrowing and lending options for Print and Bones & Models Reserves.
Instructors are encouraged to contact Public Services with questions.
Print Reserves
The following process is in place for print reserves: 
All print reserve items may be checked out for a 3-week loan period.
Items are available on a first come, first serve basis. Items can be placed on hold through the library catalog.
Renewals are NOT permitted.
Library visitors may check out TWO print reserve items at a time for use outside of the library.
Check out items with your BuckID or medical center badge at the Public Services desk on the first floor of Prior Hall.
All returns must be placed in the book drop located on the front exterior of Prior Hall. We will not accept items at the Public Services desk.
All print items will be quarantined for five days prior to check-in.
To place course material on reserve*, please use our Reserve Request Form. 
For more information, review our Course Reserve Policy. 
*Print reserves for courses will follow the same lending process detailed above.
If the library does not own a desired title, you may recommend it for purchase.
Bones & Models Reserves
A selection of anatomical models will be available for checkout. Please see available models here. Models may be reserved up to 1 day in advance. 
The following process is in place for models: 
One model per student for a 2 hour period. Renewals are not permitted.
Models must stay in the library at all times.
Anatomical models will have a 2 hour time block of unavailability between borrowers for cleaning and sanitization by library staff.
Models not available the first 2 hours the library is open to allow for cleaning and sanitization for use for the day.
Models are required to be returned 45 minutes prior to the library closing each day, or late fees will be assessed. Check library hours here.
Check-in/check-out process will be contact free. BuckID or Medical Center Badge required for checkout.
While a model is checked out, observe the following:
Wash hands prior to model checkout and use.
Face mask is required while model is in use.
Gloves are encouraged, but not required. Borrowers may ask for gloves at the Public Services desk.
Wash hands after model use.
Fines for Print and Bones & Models items:
$2.00 for the first hour
$5.00 for each additional hour
Electronic Reserves
The Health Sciences Library discontinued its eReserves service of linking or scanning and posting readings to Carmen on behalf of instructors. While HSL staff will no longer post or link readings to Carmen courses, we do provide assistance with identifying stable links that can be added to Carmen courses. 
The HSL website provides information on linking to articles in Carmen. Additional copyright help is available through University Libraries Copyright Resources Center.
Your Contact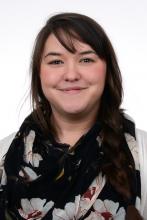 Public Services Specialist
Public Services