eBooks
Thousands of eBooks available through the library are accessible through the web browser of your desktop, laptop, or mobile device. You can search for eBooks available at OSU in the Library Catalog or Online Journals and eBooks List. You can also access many subject specific eBooks in publisher collections and databases.
Finding eBooks in the Library Catalog
You can limit your search to eBooks in the Library Catalog by selecting "E-books" from the dropdown menu shown below. The Library Catalog provides links to thousands of eBooks on nearly any topic. Search options include keyword, author, title, subject and more. You can also easily search the OSU Library Catalog by selecting "catalog" from the quick search tool on the right-hand side of the HSL website's main navigation bar above.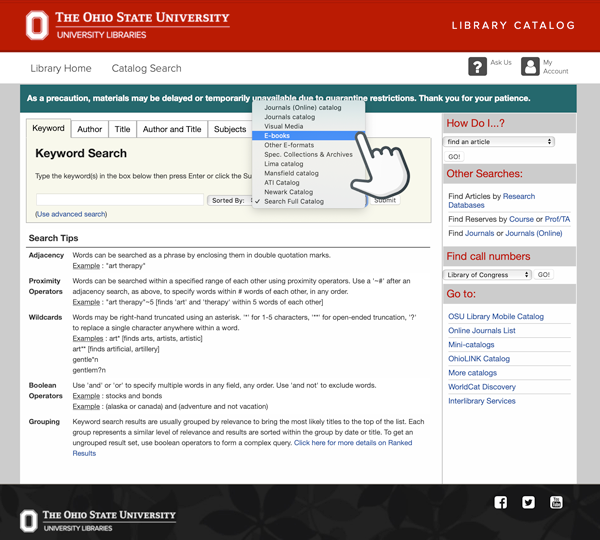 Finding eBooks through the Online Journals and eBooks List
The Online Journals and eBooks List provides A-Z browsing by subject or searching for online books by title or ISBN.
*Not all eBooks available at OSU are in either the Library Catalog or Online Journals and eBooks List. Be sure to use both of these tools to perform a comprehensive search.
Finding eBooks in Publisher Collections and Databases
The Health Sciences Library provides access to thousands of eBooks that are part of publisher collections or databases. These resources often include additional content beyond the eBooks they contain. This may include drug resources, patient handouts, test prep materials, images, videos, and more. The resources listed below represent a few of the most popular sources for Health Sciences eBook content. You can access them by clicking on the logos below or through our Databases page.

Core25 Books provides quick and easy access to 25 popular eBooks covering most internal medicine topics as well as medical dictionaries and drug information sources.

ClinicalKey provides access to more than 1,000 health sciences reference books including Netter's Atlas of Human Anatomy, Cecil Medicine and Nelson Textbook of Pediatrics

AccessMedicine database provide access to more than 100 leading medical titles including Harrison's Principles of Internal Medicine and Williams Obstetrics. AccessEmergencyMedicine, AccessPhysiotherapy, AccessSurgery, and AccessPharmacy are also available.

Stat!Ref provides access to electronic versions of AHFS Drug Information, Stedman's Medical Dictionary, and more.

The OhioLINK Electronic Book Center includes over 135,000 scholarly and reference eBooks on a variety of topics including nearly 9,000 in the health sciences.

O'Reilly Safari provides access to thousands of books, videos, expert-curated courses, and interactive learning environments for business, technology, and more.*
* When accessing the resource, be sure to click on "Not listed? Click here." Then enter your OSU name.# email address for access. OSU name.# email required for access. Account creation is optional and is only required to use the "queue" and other features. Supplying a valid email provides access for 3 days.