Collection Development Policy
Editors:  Lynda Hartel, Director and Joseph Payne, Electronic Resources Librarian
Updated: February 3, 2020
Contents
A.1 Clientele
A.2 Curriculum
       1. History Collection
       2. Consumer Health Collection
       3. Closed Reserve Collection
A.6 Participation of Faculty in Collection Development
B.   Nature of the Subject Literature
C.1 Reference Sources and Databases
D.   Scope of Collecting Activity
D.1 Subject Coverage
D.4 The Ohio State University Libraries Overlaps/Underlaps
D.7 Chronological Publication Period Covered
D.8 Geographical Areas Covered
D.9 Gifts
E. Cooperative Agreements
The mission of the Ohio State University Health Sciences Library is to provide the highest quality information and knowledge solutions to support research, education, innovation and advances in patient care. This policy provides the background and guidelines associated with the scope and nature of the Health Sciences Library collections.
The Health Sciences Library evolved from a small collection of books in 1846. The following timeline details the growth and development of this collection.
1846-In the spring of 1846, the Willoughby Medical College near Cleveland, Ohio transferred to Columbus. This college was to become The Ohio State University College of Medicine. The medical school's first session was held in a large frame building originally called the Clay Club House on State Street. Half of this wooden structure was then moved to the northwest corner of Gay and High Streets. Under the classroom amphitheater were three small rooms. One of these rooms held a few books that had been transferred with the school. These materials, bearing their original bookplates, are currently housed in the Coleman Memorial Alcove.
1850-As the school expanded a new building was needed. In 1850-1851, St. Francis Hospital was constructed (where Grant Hospital is currently located) to house a new hospital and the medical school under one roof. Due to lack of funding the Library remained unfinished until 1887 when additional funding became available.
1851-1907-The book collection continued to grow with the merger of three medical schools: Starling Medical College, Ohio Medical University, and Columbus Medical College. The new college, the Starling-Ohio Medical College was organized in 1907.
1914-To the surprise of the medical faculty, as legislation was being prepared to finally recognize this merged medical school, an amendment was adopted to establish a College of Homeopathic Medicine through a merger with the Cleveland-Pulte Medical College.
1922-The controversial homeopathy school closed. Their collection of over 1800 volumes became part of the Library collection. Eventually housed at University Library, this homeopathy collection was moved to remote storage in 1992.
1925-The Medical Reference Library (later called the Health Center Library) was moved into 1188 sq. ft. on the first floor of Hamilton Hall. Space for storing less-frequently used material was acquired in the Main Library, its Annex, a basement room in Hamilton Hall, and the headquarter building of The Ohio Tuberculosis Association at 1575 Neil Avenue. The use of library materials was maintained by a messenger service.
1934-The Library maintained 18,500 monographic volumes and subscribed to 164 journal titles in the fields of medicine, dentistry, nursing, and optometry.
1947-The Albert D. Frost Collection in the Department of Ophthalmology came under the direction of the Health Center Library. 1948-Members of The Columbus Academy of Medicine were given privileges at the Health Center Library.
1951-Construction of an addition to Hamilton Hall allowed the scattered collection to be returned to one building. Floor space was increased to 6890 sq. ft.
1954-The library at Children's Hospital came under the direction of the Health Center Library. 1955-1957-The Lionel Topaz Memorial Library in the School of Optometry and the medical reading room of University Hospital came under the direction of the Health Center Library.
1959-Holdings were enhanced by the donation to the University of approximately 8000 medical and 4000 dental books and periodicals by the Columbus Public Library. These volumes had been deposited in the Public Library by the Columbus Academy of Medicine, the Ohio State Dental Association, and the Columbus Dental Society. By this date the Library consisted of 67,000 monographic volumes and subscribed to 1,460 journal titles.
1960's-Believing that Library facilities in Hamilton Hall were totally inadequate for the needs of the Library and medical complex, Dr. Richard L. Meiling, Dean of the Medical College, instigated a search for funding a new library facility. A grant was obtained through the National Institutes of Health. A stipulation for funding required that innovative technology be included in the construction of the building. Dr. Meiling, Hugh Atkinson, Director of University Libraries, and Mr. Curtis, architect, decided to invest $800,000 in an automated book storage system called the Randtriever (named after the company which developed it).
1972-The new Health Sciences Library, at 376 West 10th Avenue, was completed at a cost of $5 million and was designed to accommodate 1,250 users. Most of the collection, 120,000 volumes, was placed in random order in the Randtriever (RT).
1973-As it was apparent that the RT could not handle the mechanical stress of retrieving items, heavily used materials were pulled out of the RT. Books were placed on the third floor and journals were placed on the second floor.
1984-Dr. William Studer, Director of University Libraries, and Elizabeth Sawyers, Director of the Health Sciences Library, reached an agreement to have acquisition funds transferred to the Health Sciences Library. Cataloging processing continued to be done at Main Library.
1987-Due to cost increases and difficulty in maintaining a current optometry collection, the Topaz collection merged with the Health Sciences Library. Although several reference books were left in Fry Hall at the request of faculty to maintain a reading room collection, approximately 4,000 volumes were moved to the Health Sciences Library.
1988-The library building was dedicated the John A. Prior Health Sciences Library on November 1, 1988. Dr. Prior, a respected colleague and teacher, had chaired the committee responsible for coordinating the construction of the Library in the 1970's.
1991-Maintenance costs for maintaining the RT became prohibitive and equipment failure was extremely high. Library staff began to evaluate methods to empty the RT and house the collection.
1992-On August 1, 1992 the outside maintenance contract for the RT was discontinued and on August 23, 1992 the RT shut down. In the following months the collection was manually removed from the RT, sorted by call number order, and transferred to remote storage on Goodale Avenue or placed on new shelving in the Library. The very last book removed from the RT was, Orthoptics: A Discussion of Binocular Anomalies. Approximately 103,000 volumes were sent to Goodale during this project. A courier began providing daily delivery of materials to and from this remote facility. The Library's total collection consisted of approximately 200,000 volumes, with approximately 2,000 journal titles.
1993-Funding is approved for the Library renovation which is scheduled to be finished in the Fall of 1996. Work to be done includes removing the RT, utilizing the first floor, expanding computer resources, adding greater shelving space for collections, and further developing the Library's Medical Heritage Center.
1995-The Jesse Owens Recreation Center South, 175 West 11th Avenue, is transformed into temporary housing for Library collections, staff, and services while the Prior Library is renovated.  Journal volumes dated prior to 1960 and books published prior to 1970 were shipped from the Goodale storage facility to the new Book Depository on Kenny Road.
1995-The Health Sciences Library reopened in the Fall, 1995.  Several ceremonies took place in late 1995 and early 1996 to recognize the improvements made to the Library.  The number of volumes in the collection at this time was approximately 140,000.
The primary clientele served by the Health Sciences Library are the students, faculty, and staff of the Colleges of Dentistry, Medicine, Nursing, Optometry, and Public Health; the School of Allied Medical Professions; University Hospitals, The Arthur G. James Cancer Hospital and Solove Research Institute, The Comprehensive Cancer Center, The Ross Heart Hospital and The Nisonger Center for Mental Retardation and other Developmental Disabilities. Additional OSU clientele often served by The Health Sciences Library include the students, faculty, and staff of the Colleges of Pharmacy, Biological Sciences, and Veterinary Medicine. The staff and faculty of affiliated hospitals such as Nationwide Children's Hospital and University Hospitals East also use the Library.  Students and staff from many other OSU colleges use the Library on an as-needed basis to obtain health-related information. Non-OSU clients include members of the Ohio medical, legal, and business communities, patients and visitors of all OSU hospitals; students from other colleges and universities; and members of the general public seeking health-related information.
College of Medicine
The College of Medicine offers a Doctorate of Medicine program as well as Doctor of Philosophy programs in nearly every aspect of medicine. They also offer various short-term post-baccalaureate programs and Master of Science degrees. Residency training follows completion of the general Doctor of Medicine degree, with 26 residency training programs offered. Examples of subject areas for the Master of Science, Doctor of Philosophy, and Residency include: Anatomy, Anesthesiology, Cell Biology, Internal Medicine, Medical Biochemistry, Neurobiology, Obstetrics and Gynecology, Ophthalmology, Pathology, and Pharmacology. A Public Health program is also currently offered.
School of Allied Medical Professions
The School of Allied Medical Professions presently has 8 programs offering the Bachelor of Science in Allied Health Professions. These areas are: Circulation Technology, Medical Dietetics (being phased out), Health Information Management (formerly medical record administration), Medical Technology, Occupational Therapy, Physical Therapy, Radiologic Technology, and Respiratory Therapy. Students and professionals who have completed work in one of these departments can work on a Master of Science in areas such as Education, Management, Gerontology, Biomedical Computing, Clinical Nutrition, Occupational Therapy, or Physical Therapy.
College of Nursing
Degrees offered through the College of Nursing are Bachelor of Science in Nursing, Master of Science, and Doctor of Philosophy.  Nurse practitioner training is an integral part of many tracks in the Master of Science program.  Specialization tracks are available in Adult Health and Illness Nursing, Parent-Child Nursing, Psychiatric Mental Health Nursing, and Community Health Nursing.  The focus of the PhD program is the development and testing of theories that affect health states.
College of Dentistry
The professional program in the College of Dentistry leads to the degree Doctor of Dental Surgery. Master of Science degrees are offered in Dental Anesthesiology, Dental Public Health, Endodontics, Oral Pathology, Oral and Maxillofacial Surgery, Orthodontics, Pediatric Dentistry, Periodontics, and Prosthodontics. The College of Dentistry also offers a curriculum in dental hygiene leading to the degree Bachelor of Science in Dental Hygiene.
College of Optometry
The professional program in the College of Optometry leads to the Doctor of Optometry degree. The Master of Science and Doctor of Philosophy in Physiological Optics are offered as are postgraduate programs in various areas of optometric practice.
College of Public Health
The Master of Public Health is the standard degree for public health practice.  The College also offers a Master of Health Administration, Master of Science, and PhD.
Research is conducted by the faculty, staff, and students across all programs and medical center departments.
College of Medicine
The College of Medicine actively supports laboratory and clinical research in a variety of areas. Current areas of research include biomedical engineering, health care delivery innovation, epidemiology, immunology, virology, oncology, molecular biology, neuroimmunology, neurooncology, movement disorders, experimental pathology, traumatic brain injury, and electromyography. A complete animal research facility as well as facilities for research in the clinical areas and biomedical engineering are maintained. Faculty from the College of Medicine work closely with faculty from the Cleveland Clinic and with faculty from other University departments.
School of Allied Health Professions
Current research in the Allied Health Professions includes food management, balance testing and gait, child abuse and neglect, extracorporeal support, geriatric work, and massage therapy.
College of Nursing
The study of individuals, families and communities, and their experiences of health and illness is ongoing in the College of Nursing. This research includes the health of homeless persons and in-home health care.
College of Dentistry
Current research in the College of Dentistry includes immunology, inflammation, neurobiology, implantology, materials science, and health delivery systems.
College of Optometry
The College of Optometry is most recognized for research in ocular physiology . Related research includes measuring the consumption of oxygen by the cornea, its production of carbon dioxide, and determining the components of human tears. Research in the area of improving the wearing of contact lenses is also conducted.
College of Public Health
The College of Public Health has a diverse research portfolio.  Research areas range from the prevention of childhood obesity and cancer to tobacco control and health care policy.
Nisonger Center
Researchers at the Nisonger Center are currently working on developmental disabilities prevention, early childhood occupational therapy, posture and fine motor assessment of infants, and parent-child social and communicative development.
OSU Medical Center
Researchers at OSU Medical Center work cooperatively with researchers from the James and the various health sciences center colleges. Current research includes anesthesiology, cardiac catheterization, osteoporosis, urinary tract infections, myocardial infarction, digital imaging, pneumonia, diabetes, AIDS, meningitis, growth hormone, various transplantations, echocardiography, respiratory distress, sleep disorders, gynecologic oncology, and fertility control.
Comprehensive Cancer Center & James Cancer Center The Comprehensive Cancer Center, housed in the Arthur G. James Cancer Hospital and Research Institute and Wiseman Hall, operates 26 laboratories and works in partnership with University departments and other research centers in Ohio to reduce the incidence of cancer and provide effective treatment for patients with cancer.  Established research programs include: Boron Neutron Capture Therapy; cancer chemoprevention; cancer prevention and control; developmental therapeutics; head and neck oncology; hormones and cancer; immunology; molecular biology; molecular, cellular, carcinogenesis and epidemiology; neuro-oncology; pediatric oncology; RNA Oncogenic Virus; urologic oncology.  Two developing research programs are radioimmunoguided surgery and human cancer genetics.
1. History Collection
Sarah J. Coleman began this collection on November 15, 1913 with a donation of the personal medical library of her late husband, Dr. Nathaniel Coleman, a leader of the Central Ohio medical profession. The collection originally consisted of 538 volumes, a few rare books, and $500 cash. Mrs. Coleman's sister, Marietta Comly, contributed $500 in 1922 and $1,500 in 1933 to bring the endowment to $2,500. By 1933, 215 historical books were added to the original collection. In 1995, the Library received a $300,000 gift from the Academy of Medicine of Columbus and Franklin County Foundation. This money, together with additional financial gifts has been used to establish the Medical Heritage Center. The purpose of this Center is to preserve Central Ohio's medical collections and to centralize resources. The uniqueness of the history collection attracts researchers throughout Ohio as well as OSU patrons. Historical materials are added to the online catalog as they are placed in this growing collection, which currently numbers 5,224. Specific historical items include: Dental Materials On permanent loan from the Dr. John Harris Dental Museum Foundation in Bainbridge, Ohio is an important collection of dental books and journals. These materials were collected at the first dental school in the United States.
Medical Artifacts
The Medical Archives Committee of the College of Medicine was instrumental in having many items donated to the college. Individual donors also add items to this portion of the collection. Included are blood-letting instruments, probes, medical saddle bags, bedpans, and a Civil War doctor's kit. The Library is participating, along with other Ohio medical libraries, in a National Library of Medicine grant to catalog medical artifacts.
Medical Coins
A set of medical coins were held in trust by the Ohio National Bank until 1975 and then given to Dr. George Kahn, College of Medicine, for the Coleman Memorial Alcove. This collection was appraised at $729.75 in 1975. A second collection of medical coins was donated to the Library in 1990. Created by the Medical Heritage Society, this special collection of "medical firsts" is housed in the Library's safe.
Moulages
In 1986, 11 moulages were donated to the Library by the Department of Dermatology. These wax models, used in Europe during the 19th century to teach medical students how to identify venereal diseases, were made in 1876-1893 in Sonneburg, Germany. It is thought that this collection was brought to the University during World War II in an effort to protect them from Hitler's destruction.
Optometry Materials
When the Topaz Library closed in 1987, this collection of unique optometry books were added to the Coleman Alcove. Donated by Dr. Richard Hall and Dr. Charles Sheard, these materials were given to the Optometry Department to exemplify the developments in the field of optometry.
Photographs
In 1991 a collection of photographs depicting the history of The Ohio State University Medical Complex was begun. This collection includes photos found during the renovation of Hamilton Hall and contributions from Ms. Jane Sedgwick, retired editing manager, College of Medicine Journal.
Zollinger Collection
In 1993, following the death of prominent OSU surgeon Dr. Robert Zollinger, materials from his private collection were donated to the Library. This collection, consisting of approximately 164 linear feet of archival materials, is being evaluated and organized in preparation for placement in the history collection.
2. Consumer Health Collection
The consumer health resources and related professional library staff are available in the Library for Health Information, Doan Hall, OSU Medical Center.
3. Closed Reserve Collection
Materials designated by faculty as course-related are placed in the Closed Reserve Collection-either in print or in electronic formats. Items on Closed Reserve include: textbooks, licensing examination preparation books, articles, and anatomical models. 
Circulation staff members who coordinate the Closed Reserve operations work closely with the collection staff to see that new items are rush-ordered and/or processed and placed on Closed Reserve in a timely manner. Closed Reserve staff routinely review usage of this collection and remove items no longer currently used or assigned. Print materials taken off Reserve are placed in the circulating collection.
Members of the Health Sciences Library Advisory Committee often advise the Library on collection development issues. The Library Director and Associate Director for Education & Resource Management meet regularly with these groups.
Faculty routinely recommend books, journal titles, and databases to their appropriate liaison librarian or to collection staff.  Recommended books and videos are generally purchased.  Journal and database recommendations are evaluated, trialed, and considered along with relevant data. 
The varied hospital departments and health sciences colleges at OSU make it the most comprehensive medical center in the country. Combined with this fact are the constant changes in medical science that make collection development in these areas a great challenge.  The need for current, up-to-date information for patient care, research, and education is vital. Journal literature is the primary source of information for the Library's clientele. Books, videos, and models are also important to the collection, used for course assignments, research projects, and hospital staff continuing education.
As of 2010, approximately 90% of the Library's collection budget supports electronic resources.  While the majority of the collections are in electronic formats, nearly 200,000 health sciences print books and journal volumes are housed in the Health Sciences Library and the OSU Book Depository.  The physical condition of materials is quite good overall. Some pieces in the Medical Heritage Center are boxed for protection. The in-house Resource Management staff provide support for handling material repairs and bindery preparation.
C.1 Reference Sources and Databases  
Print and electronic reference resources include specialized and general biographies, dictionaries, directories, encyclopedias, and statistical sources. Titles concerning current standards and guidelines of the Joint Commission on Accreditation of Healthcare Organizations, American Hospital Association, American Medical Association, Association of American Medical Colleges, and World Health Organization are purchased for this collection.  Liaison librarians and collection development staff make the final decision as to what is included in this collection.  The core pieces of this collection are published in the past five years only, making the most current health sciences information readily available to all Library users.
Electronic databases are also considered reference resources.  With the exception of UpToDate, all databases can be accessed from home or office by OSU users.  The Library's homepage (http://hsl.osu.edu) is often used as an initial means of linking to electronic resources. 
Book purchases, whether in electronic or print formats, must be relevant to the health sciences and must fit the nature and scope of the collections as noted.
Librarian and patron recommendations, usage statistics of previous editions or items covering similar topics, publisher promotions, and published reviews are used when selecting books. Materials requested or written by OSU faculty and students are generally purchased. As a general rule, one copy of a title will be purchased. Duplicates are purchased on occasion and at the discretion of the collection development or closed reserve staff.
Only electronic books available through institutional licenses will be purchased. Whenever possible, electronic books should be purchased with the right to maintain perpetual access. Remote use and multiple simultaneous users are also preferred license terms. Electronic books are purchased from a variety of vendors and can be purchased and licensed for OSU use only or purchased and licensed through various library consortia.  
Due to limited shelving space, print books are periodically reviewed and considered for withdrawal. Criteria for withdrawal include the usage of the item, local availability of electronic or more current editions, more than five copies available for circulation in other OhioLINK libraries, and the physical condition of the item. Books that are withdrawn are first offered to other OSU and area libraries. Books not taken by these groups are shipped to Better World Books, our book sale partner. 
The journal collection is the primary source of information in the Library. The Library currently provides access to over 5,000 titles in electronic and print formats. Journals are purchased primarily to support the teaching and research needs of health sciences clientele.  Interlibrary loan borrowing statistics, departmental research needs, and faculty suggestions are used in developing this collection.  Priority is given to those publications with multiple requests, high impact factors, and titles of interest to more than one college or hospital department.  
Each year in the summer, an evaluation of the journal collection is conducted. New journal titles are generally purchased each year following a routine cancellation process. Low usage, low or no impact factors, extreme price increases, and problems receiving issues are most often the cause for cancellation.
The following LC classifications are significant to the collection:
QH (Genetics, reproduction, bioethics)
QP (Physiology)
QR (Microbiology, immunology, virology)
R (General Medicine, medical education, medical history)
RA (Public Health, epidemiology, preventative medicine, health administration) RB (Pathology, pain management)
RC (Internal Medicine, oncology, neurology, psychiatry...)
RD (Surgery)
RE (Ophthalmology, optometry)
RG (Obstetrics and Gynecology)
RK (Dentistry)
RL (Dermatology)
RM (Pharmacology and Therapeutics)
RT (Nursing)
Related subjects generally excluded from the collection include:
A. Veterinary medicine
B. Pharmaceutical development
C. Child health and education
D. Psychological development
The Health Sciences Library collection overlaps with the following OSU libraries:
A. Biological Sciences/Pharmacy (pharmacology, microbiology, biochemistry, genetics)
B. Nationwide Children's Hospital (pediatrics)
C. Thompson Library (neurology, psychology, nutrition, history of science)
D. Law (medical malpractice, health care economics and policy)
E. Science & Engineering (biochemistry, bioengineering, chemistry)
F. Veterinary Medicine
Areas where there are gaps in the OSU collections due to multi-disciplinary research and multiple collection locations include: environmental health, neurochemistry, neuropsychology, biotechnology, and bioengineering. No single library selects in these areas.
English is the primary language of this collection.
D.4 Chronological Publication Period Covered  
All chronological periods are collected. The oldest item in the collection is dated 1649. As is the case with most scientific libraries, emphasis is placed on current, timely information.
Most items in this collection concern the United States. An increasing number of British and Asian-oriented publications are being added to the collection. Many of these items concern public health, communicable diseases, and alternative health care methods.
Materials solicited as gifts include various faculty and departmental publications and private donations of books and historical artifacts/archives. Donations are subject to the standard selection criteria and procedures of the Library and Medical Heritage Center. The Library will acknowledge receipt of donations but, according to law, cannot appraise donated collections.  Items not needed for the Prior Health Sciences Library will be donated to other libraries, donated to organizations sending materials to areas of need, or sent to our re-sale partner Better World Books.  Through our work with Better World Books, the Library and our literacy partner, The National Center for Family Literacy, earn a percentage of net sales.  Library earnings are used to buy new materials for the collection.
Reciprocal borrowing agreements exist with OhioLINK, CIC (Big 10), and Greater Midwest Region of The National Library of Medicine (GMR) libraries.
Your Contact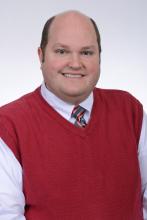 (he/him/his)
Collection Development Librarian
Resource Management