Health Sciences Library Advisory Committee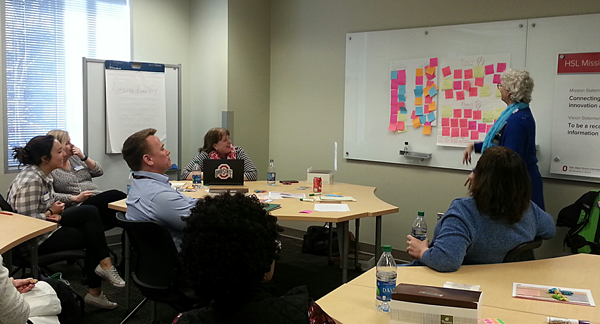 Library Advisory Committee members advise the Library Director on significant matters pertaining to library resources, space and new initiatives. Members offer recommendations regarding library services on behalf of library visitors, and they serve as advocates for the library in presenting major needs to relevant stakeholders.  
Membership consists of one appointed representative from each of the following colleges and schools: Health & Rehabilitation Sciences, Dentistry, Medicine, Nursing, Optometry, Public Health and Biomedical Sciences; one representative from The Ohio State University Wexner Medical Center; one representative from the James Cancer Hospital; one representative from OSUMC IT; one undergraduate student representative; one professional student representative; and a representative from Nationwide Children's Hospital Library Advisory Committee serves as ex officio.
Committee meetings are held once a quarter.  Please reach out to your appropriate representative if you have questions or suggestions for them to bring to the library.
Committee Members
Monica L. Robinson: Chair, School of Health & Rehab Science faculty
Kellie J. Archer: Chair-Elect, College of Public Health faculty
Bradley E. Dougherty: College of Optometry faculty
Amanda Haney: Clinical, The James–CCC
Jackie Hoying: College of Nursing faculty
David Lusk: Medical Center IT
Karina Masoian: Undergraduate Student Representative, School of Health & Rehabilitation Sciences
Michael Root: College of Medicine–Microbial Infection and Immunity faculty
Paola C. Saponaro Parra: College of Dentistry faculty
Ashley Patton: Clinical Pathology Resident