Ohio Medical University Student Scrapbook
Ohio Medical University (1890–1907) is one of five medical colleges that together became The Ohio State University College of Medicine in 1914.
This medical student scrapbook, created by Dr. David E. McBroom, was donated to the university by Samuel B. Mayo, Dr. McBroom's son-in-law, in 1978. The scrapbook includes photos of various classrooms, exam rooms and study spaces in the Ohio Medical University (OMU) building around 1904–1907, as well as some student photographs.
The scrapbook gives us a fascinating glimpse into what a medical student's life was line in this time period. These images also provide insight into what OMU looked like while it was in operation.
This digital exhibit was created by medical illustrator Courtney Fleming, Medical Visuals. We encourage you to scroll through the exhibit and explore some of the additional links and information.
You are welcome to include this digital exhibit in whole or in part in your scholarly research, website or publication. While no copyright acknowledgments are required for use, we request that you include the following suggested text: "The Ohio Medical University Student Scrapbook digital exhibit was created by the Medical Heritage Center at The Ohio State University Health Sciences Library."
Historical Disclaimer
As historians, we do our best to identify historical persons in archival photographs. However, sometimes it is difficult to ascertain with 100% certainty the identity of individuals. In some cases, we can offer only a best guess based on historical research and documentation available. We welcome community feedback to assist in establishing more certain identification when possible.
The experiences and views expressed within the scrapbook belong to David E. McBroom, the author of the scrapbook, and do not necessarily express an endorsement by The Ohio State University, the Health Sciences Library, the Medical Heritage Center or its staff. Some of the images and nomenclature in this scrapbook represent historical depictions of the culture of the time, and may not be considered culturally acceptable now. We preserve these elements for historical purposes and not necessarily as endorsements of what we deem correct or appropriate.
Your Contact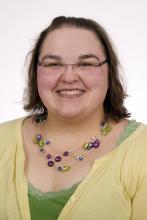 (she/her/hers)
Collections Curator
Medical Heritage Center