Guidelines for Comprehensive Literature Searches
1. Select the electronic resources/databases
Choose your database by evaluating the subjects covered. Also, consider databases that cover journals that relate to the topics of interest. Journals included in a database are listed under browse features, publications indexed, etc.
OSU Health Sciences Library Resources for Biomedical Research
2. Determine what type of information to use
Primary – resource where original research is reported and may be in the form of a journal article, case reports, meeting abstracts, conference reports, technical reports, etc.
Secondary – summaries of the original work; database searching to locate primary resources, indexes, abstracts, alert systems, Internet search engines, etc.
Tertiary – Sources that compile, analyze such as systematic reviews, meta-analyses and practice guidelines
Formats may include paper, microforms, digital and human beings (colleagues in the field, librarians)
3. Utilize Good Search Strategies
Knowledge of search features in the database in use
Search options are different in each database and with the interfaces used to access the databases
Researchers should become familiar with the features of the databases that the search routinely. Librarians can provide assistance with this skill
Use subject headings (Dictionary/Thesaurus preferred terms in the databases) when possible
Search concepts separately and then combine sets. This also enables the searcher to broaden or narrow the search more easily.
If available, use subheadings to obtain a more precise search, but use carefully. Don't use them if there isn't't much written on the topic
When using keywords instead of subject headings, consider truncation, spellings, synonyms and differences of terms in various countries (ex. Ward vs. patient rooms)
If one good article is located, look at the subject headings and references for more ideas to enhance the search strategy. In PubMed and OVID databases, use the related article feature as well.
4. Comprehensiveness
Consider time factors as well as subject coverage which was addressed in #1 under appropriate resources
Time depends upon several things:
Knowledge on the subject
Practical applications (ex. if a researcher is doing a study on a drug previously used on another condition; search should go back to earlier studies on the drug)
Depending upon the database years of coverage, printed indexes may need to be utilized 
5. Currency
Essential to keep up with the most recent information on a subject
Internet has made the disseminating of information for general news and peer reviewed publications very easy
Internet has revolutionized the communication vehicle in scientific research
Be aware of how often information is updated in the different databases and resources. Updates could range from daily to quarterly
6. Keep Up to Date on the Subject
Set up auto-alerts in databases on specific topics; New citations are sent on a regular basis
Journals alerts – you may set up alerts to receive specific journal table of contents and may be able to read the article online, immediately at the desktop
            7. Other sources of information such as grey literature
Books – available through Prior Health Sciences Library catalog and if not available at Prior, request through OhioLINK if available. If not available, may be available Interlibrary Loan
Conferences
Government Reports
Patents
Technical Reports
Dissertations
Newspaper Articles
Web-Based/Internet Information
Interviews or telephone conversations with others working in the same subject area and/or research
            8. Consult the Research Librarian
Double check the completeness of the search
Find out if all available resources have been utilized
For further assistance with the literature review
**Adapted from Yale University School of Medicine, Harvey Cushing/John Hay Whitney Medical Library http://www.med.yale.edu/library/education/hic/searching.html
Your Contact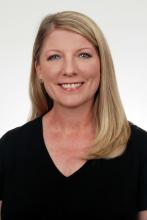 (she/her/hers)
Associate Professor
Assistant Director
Research and Education Services