HSL 3rd Floor Renovation Highlights
Welcome to the Health Sciences Library's Renovated 3rd Floor!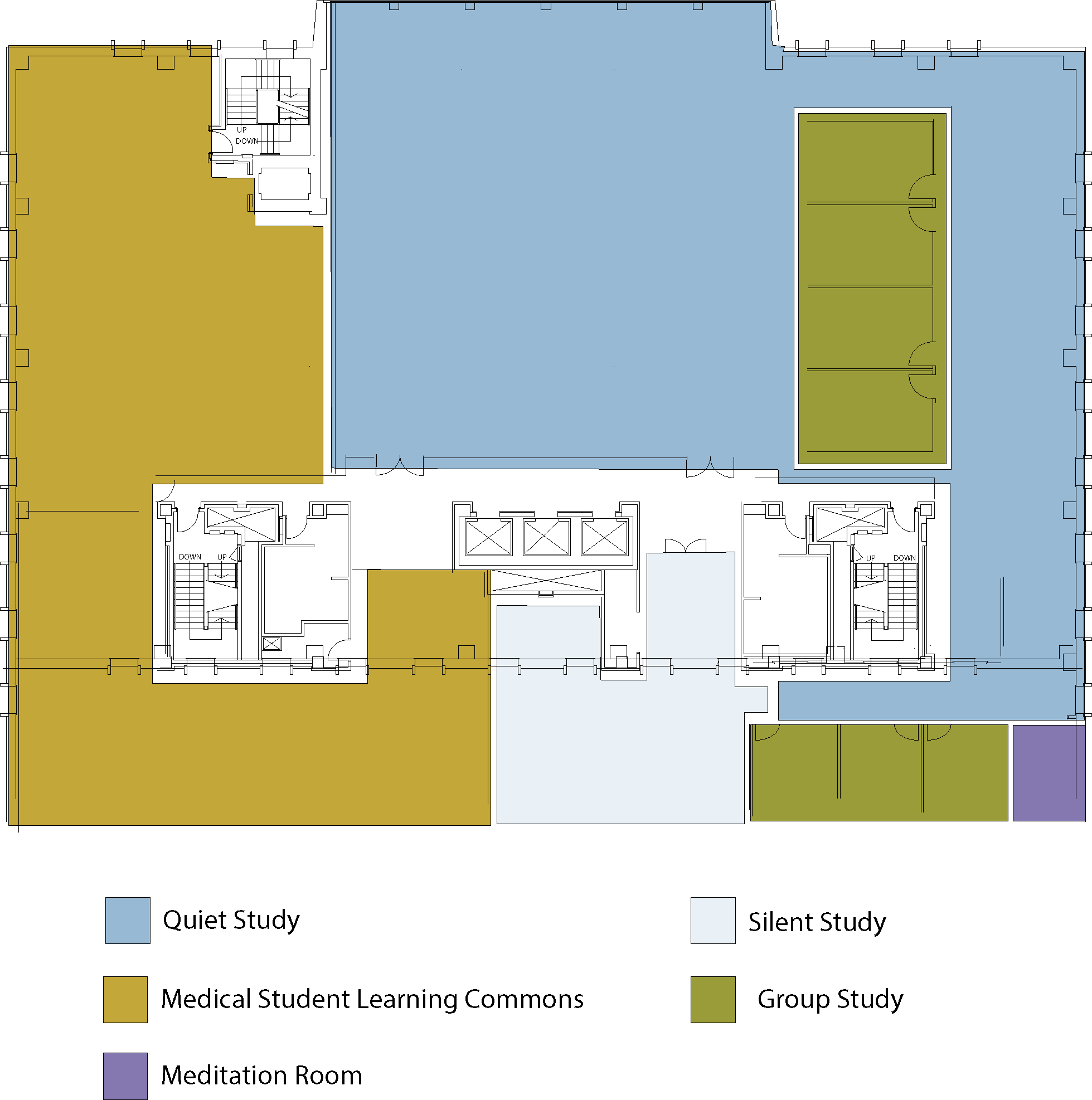 The HSL's 3rd floor has been transformed from generally a single, large space into several distinct zones, in response to student needs. We would like to thank our partners, Schooley Caldwell Architecture and Gutknecht Construction for their collaboration and work on this project.
Read more about the new 3rd floor zones:
Learn more about each zone below. We've also created a few fun Zoom backgrounds you can download to "picture yourself" in some of our new spaces even if you can't visit in person.
Entry Corridor
One of the first things visitors will notice about the new 3rd floor layout is the entry corridor immediately off the elevators. The entry corridor provides physical separation for what was once a single open space, allowing students to enter and exit the floor with minimal disturbance to others.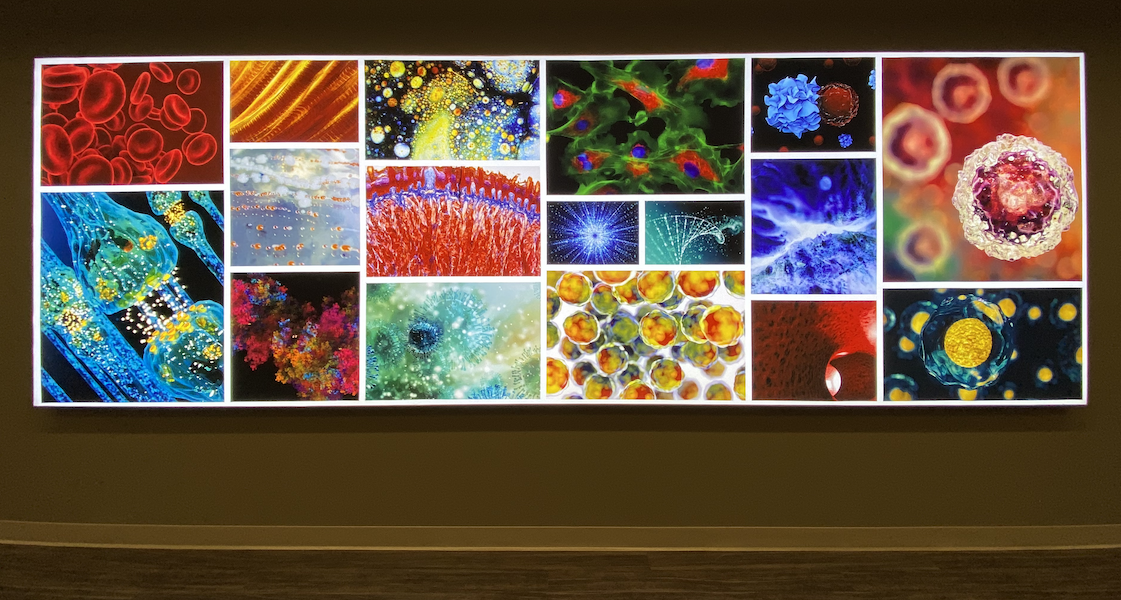 The highlight of the entry corridor is a stunning 15' x 5' custom LED light box system, showing the multi-faceted unseen world of the health sciences. The images depicted on the light box are intentionally selected to represent the varied disciplines within the health sciences, a nod to the distinct groups of students who use the library.
Quiet Study Zone
The quiet study zone comprises the majority of the 3rd floor, and is open to all health sciences students. In response to student feedback, this zone includes new bar-height tables and counter-height window seats, as well as traditional study tables and carrels. Comfortable sofa seating (with electrical built in!) is also available for even more relaxed studying. Colorful collaboration rooms house MediaScape systems to facilitate group study.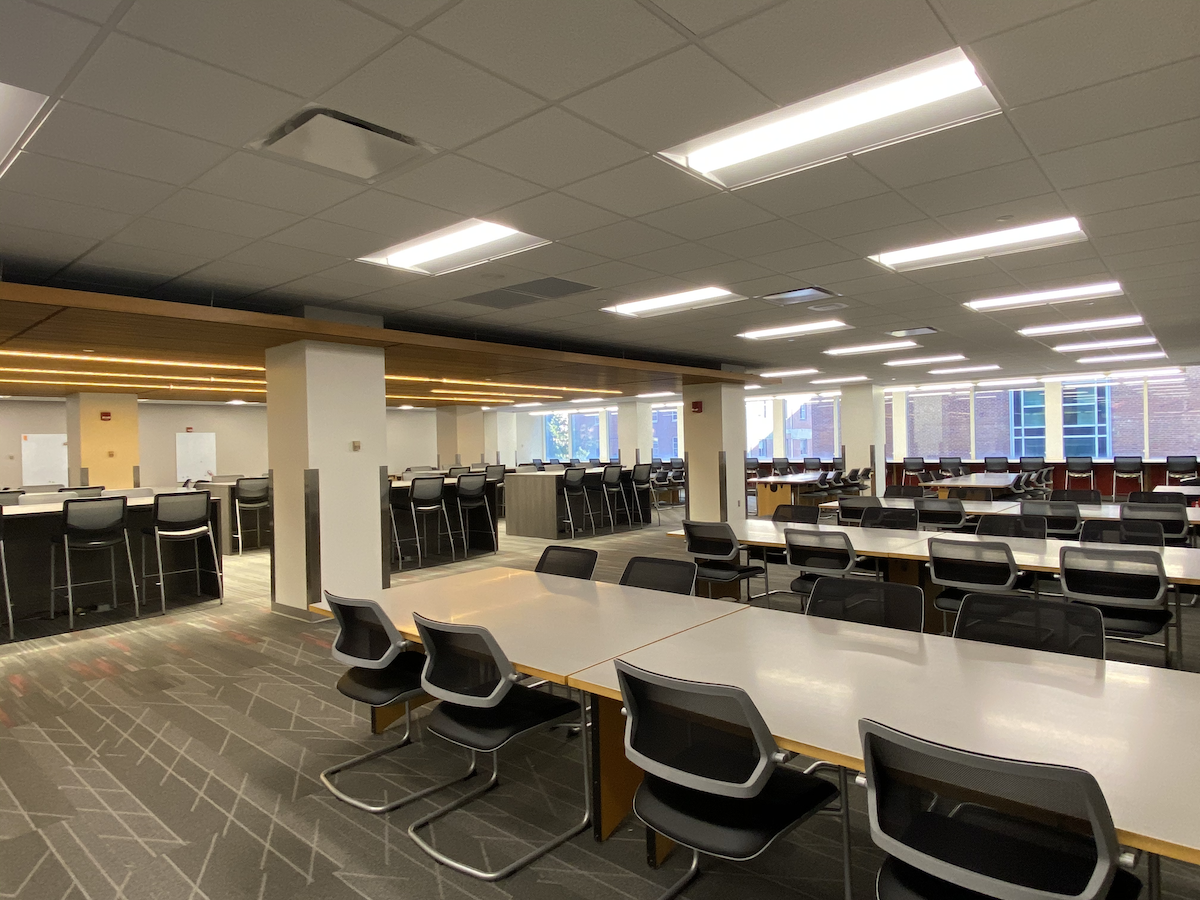 The wood ceiling feature is a highlight of the quiet study zone. Decorative as well as functional, the wood ceiling includes a soft material facing the ceiling, for additional sound absorption. An unseen, state-of-the-art Thread electrical system runs under the carpet, providing extra electrical capacity throughout the space.
New artwork includes nearly life-sized human systems illustrations, the original work of our Medical Visuals team, as well as vibrant health sciences-related photography panels.
In addition to plentiful study space, the quiet study zone also offers a meditation/relaxation room, with essentials made possible by library friends and donors.
Medical Student Zone/Learning Commons
Introducing our Medical Student Zone, a space dedicated to professional medical students. This multi-purpose area utilizes glass walls to separate casual and formal study spaces, while maintaining a feeling of openness. A mix of table heights and seating options provide the comfort and flexibility that students are looking for.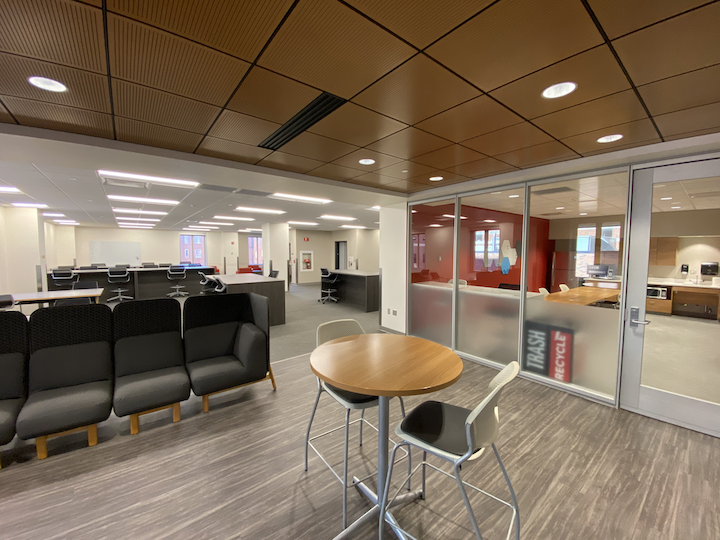 The medical student zone was designed to take the place of the current medical student study area in Graves Hall. The space offers similar features and amenities as Graves, while building on some aspects such as more natural light. Some highlights include new study carrels and chairs, as well as a dedicated charting area/computer room when more privacy is needed for work on patient cases. Artwork featuring Starling-Loving Hall will add aesthetic interest to the study carrels area.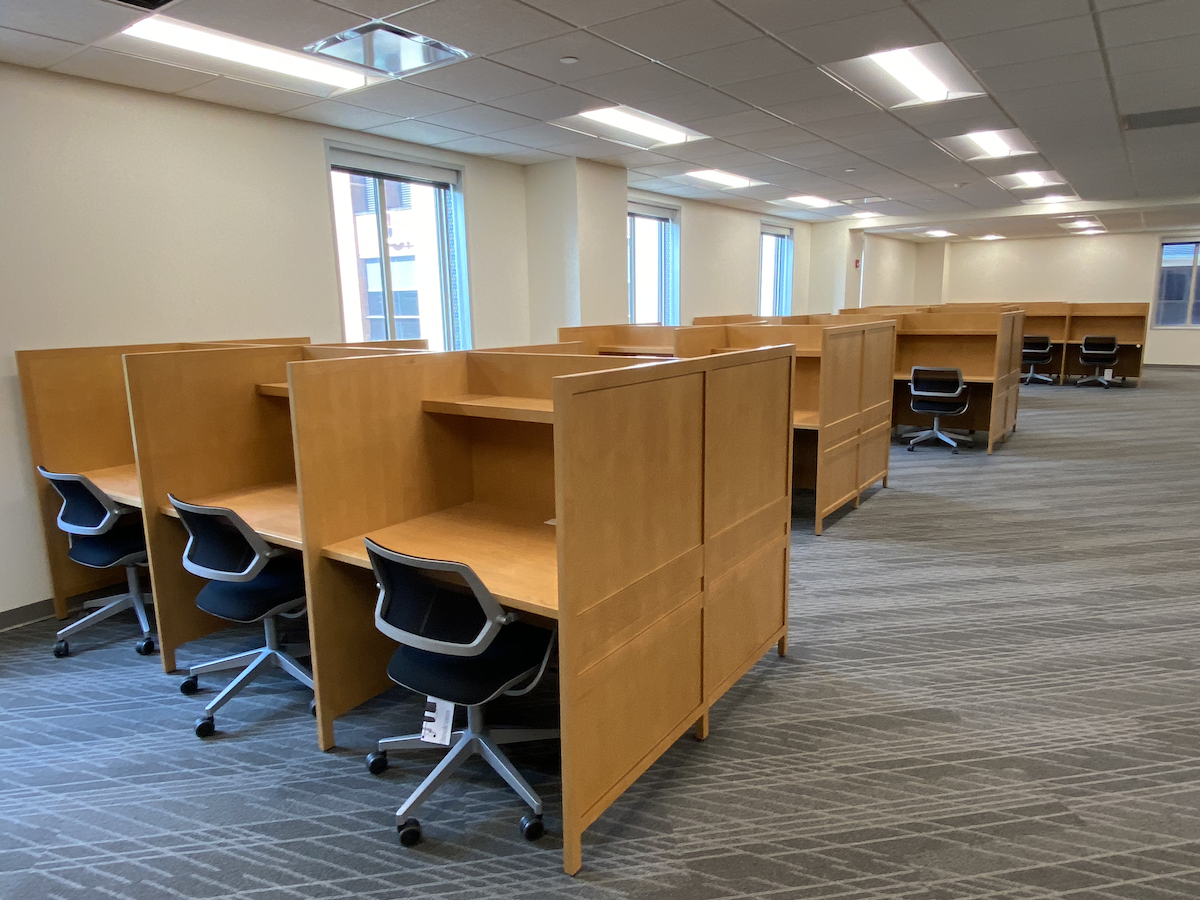 Another thoughtful addition in the medical student zone will be a library of casual reading focused on diversity and equity, made possible by library donor funds.
Silent Study Zone
This is the space for truly intense studying - the silent study zone. Students can join other like-minded individuals who are seeking a nearly silent space for maximum concentration and focus. Even the new study carrels are constructed using sound-absorbing materials.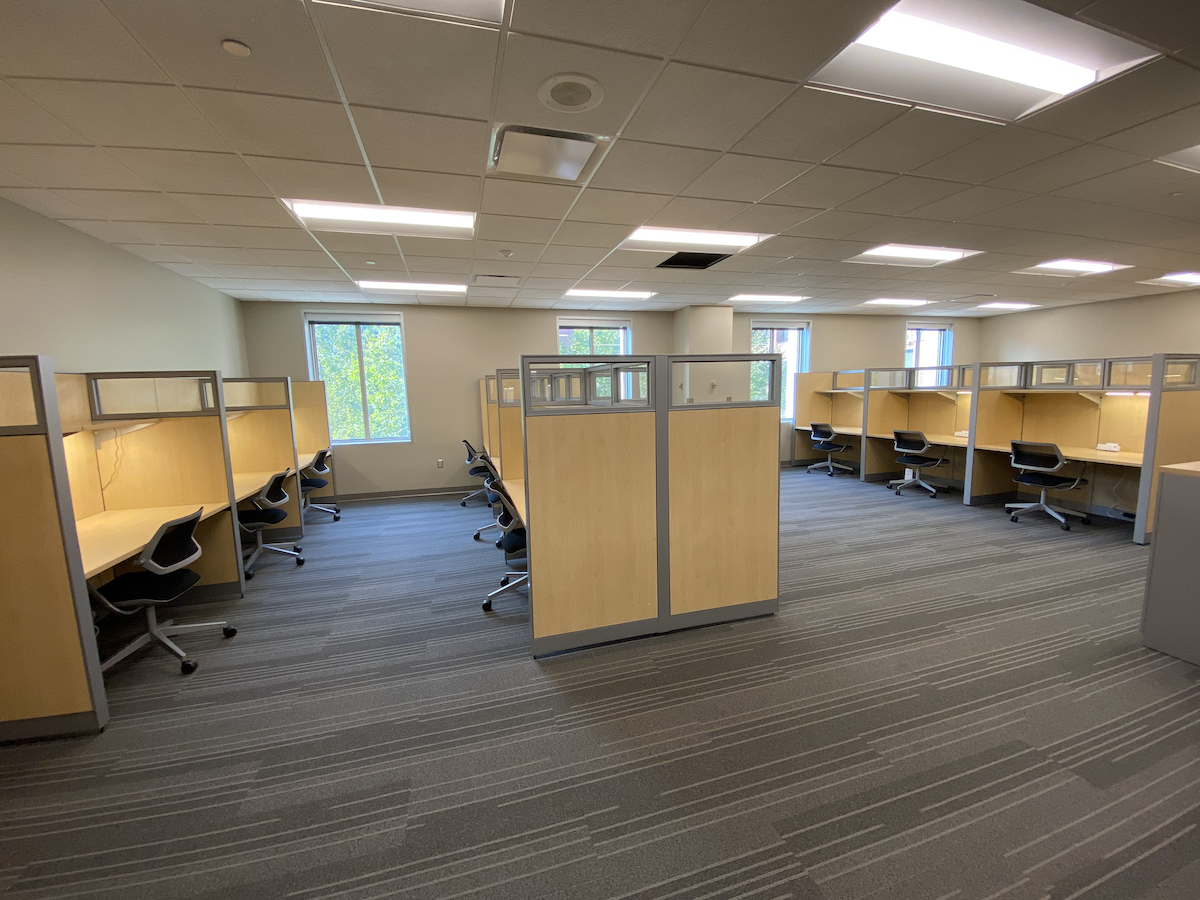 This brightly lit space is furnished with comfortable, mobile chairs. The carrels have high walls for a sense of privacy, while still allowing light to pass through. Each carrel is also equipped with electrical/USB outlets as well as individual lighting.
This zone's physical separation from other 3rd floor spaces also helps to keep the area super quiet. The silent study zone is not meant to accommodate "overflow" from the quiet study zone. As such, we expect that all students who use this zone respect the studying etiquette that is required in the silent study zone.
We'd love to hear from you!
Do you have additional questions about the new spaces? Do you have feedback or comments? Please get in touch with us at hslinfo@osumc.edu.
Your Contact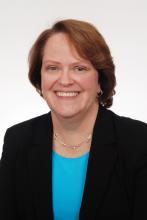 Assistant Vice President, Health Sciences
Director, Health Sciences LIbrary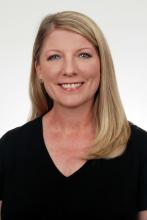 Associate Professor
Assistant Director
Research and Education Services