Gifts and Donations
The Health Sciences Library welcomes your gift to support our resources, services and programs. 
There have been dramatic changes to the Health Sciences Library (HSL) itself as well as how students, faculty and staff access and use information, study, provide patient care and conduct research since Prior Hall opened in the 1970s. The HSL works with strategic partners to meet our goal of being a top academic health sciences library and stay in the forefront of information access, retrieval and analysis.
Your Gift Matters
You can help the HSL in accomplishing our goal through financial and materials donations which can make a difference. Please select a donation type from the menu on the left to begin.
A Message of Gratitude to Our Friends and Donors
2020, as unique as it was for most of us, remained an opportunity to reflect on everything for which we are grateful. We are grateful for donor support of the Health Sciences Library's programs and services. We would especially like to highlight donor contributions to some of the furnishings and resources available to students in our newly-reopened, renovated 3rd floor.
As a token of our gratitude, please enjoy this very special thank you video from library team members as well as those we serve.
Your Contact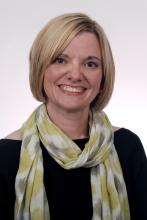 Associate Professor
Associate Director
Collections and Outreach
614.292.9273