2020 Milestones and Accomplishments: A Closer Look
Take a closer look at our 2020 Milestones, and see suggestions for some further reading.
Teaching and Learning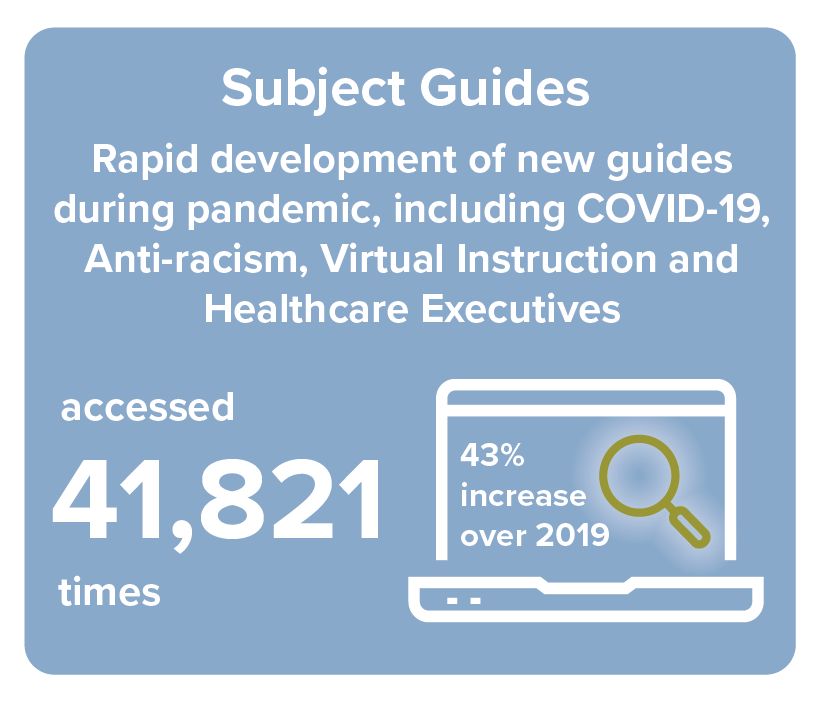 In 2020, our librarians developed or updated more than half of our active subject guides, ensuring that critical information was available when needed. Some of our more relevant guides were COVID-19, anti-racism, virtual instruction and healthcare executives. We also developed new course-specific guides to support instructors with the transition to virtual course delivery.
Our subject guides were accessed 41,821 times in 2020, a 43% increase over 2019.
Search all our guides in the Research and Education section of our website.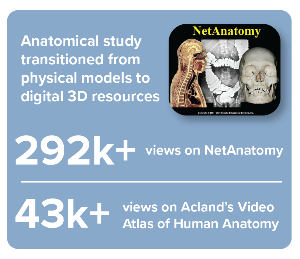 As we recognized that our health sciences students were going to need a new way for anatomical study, we worked with the Anatomy department to determine which models could be effectively sanitized and still remain in circulation, and what virtual resources could be made available. Our Collections librarians quickly collated digital 3D resources and developed course-specific study aids so our students could continue to excel.
NetAnatomy had over 292,000 views in 2020. Acland's Video Atlas of Human Anatomy had over 43,000 views.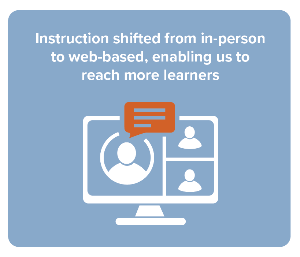 Our Research and Education librarians adapted many in-person workshops to web-based, including evidence-based practice workshops that, due to virtual delivery, nurses all across the health system were able to attend. This shift to web-based increased our impact by enabling us to reach more learners due to the flexibility of being able to attend from anywhere.
Additional workshops that we were able to offer via virtual delivery included Covidence, PubMed, and others. In 2020, the average number of attendees per instructional session increase by 48% from an average of 11 attendees per session to 17 attendees per session.
---
Research and Innovation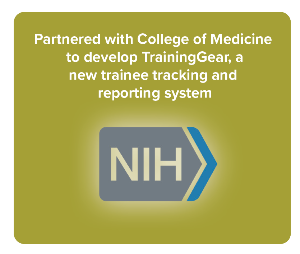 In partnership with The Ohio State University College of Medicine and Wexner Medical Center Information Technology, the HSL developed the TrainingGear database to create efficiencies for training grant investigators and to increase OSU training grant applications. This pilot database automates portions of the T32 grant application process, thereby streamlining the process overall.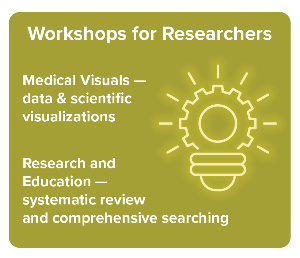 We elevated our faculty and staff as thought leaders to help researchers tell more impactful stories with their research data.
Our Medical Visuals illustrators led a Data and Scientific Visualizations workshop in partnership with the Research Commons, in which attendees learned tools and techniques for creating data visualizations as well as medical/scientific visualizations/illustrations. One general session as well as a session for a subgroup in the College of Dentistry were both well attended.
Research and Education librarians conducted both 1:1 in-depth consultations and workshops for systematic review and comprehensive searching. Workshops were well attended, with attendee caps increased for some sessions to accommodate wait-listed registrants.
Our website received not only backend improvements, but also cosmetic and usability enhancements to create a better visitor experience. Streamlined navigation along with more bright images were included. The new website infrastructure also allows for the site to grow as library services and resources grow and evolve.
Highlights include an expanded homepage banner, a more easily searchable interface for databases and resources, and the addition of a homepage tile for the Library for Health Information (LHI).
---
Outreach and Engagement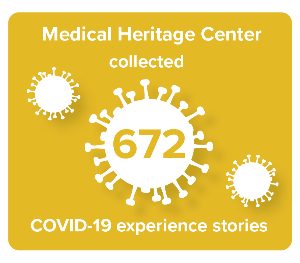 The Medical Heritage Center collected over 650 COVID-19 experience stories in 2020 via an online survey. The community was invited to complete a survey, even multiple times if desired. Some of the survey respondents were invited to provide an oral history based on their experience during the pandemic. These oral histories, once completed, will be published on The Ohio State University's Knowledge Bank.
This is an ongoing project; if you would like to submit your story, please complete the MHC's survey.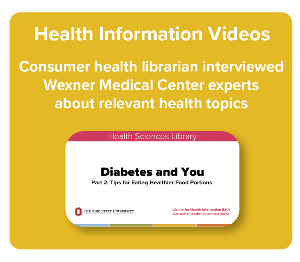 In 2020, the Library for Health Information (LHI) began a series of short consumer health information videos. Wexner Medical Center experts were interviewed about important health topics, including: how to talk to your doctor, how to incorporate more fruits, veggies, and whole grains into your diet, and information about nutrition and diabetes.
These videos were published to our Facebook page, as well as on YouTube. You can also find some of the videos on the LHI's National Health Observances webpages on the HSL website.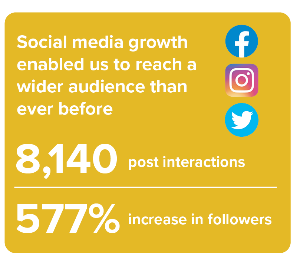 The library experienced exponential social media growth in 2020. With a presence on Facebook, Twitter, and—new in 2020—Instagram, we experienced a 577% increase in followers in 2020. Our social media growth enabled us to reach a wider audience than ever before, with over 8,000 post interactions in 2020 (an average of 22 post interactions per day).
We debuted videos in 2020 as a new way to communicate with our audience; across channels, our videos were viewed over 3,200 times.
---
Resource Stewardship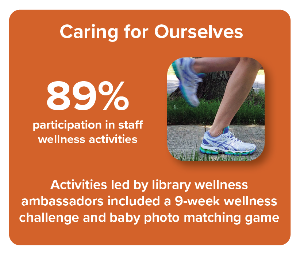 We recognized that we must first care for ourselves in order to be able to care for others. With that in mind, activities led by two library wellness ambassadors focused on wellness activities to take care of our minds and bodies. 89% of library staff participated in at least one activity. Activities included a 9-week wellness challenge, an outdoor photo scavenger hunt, book spine poetry creation, mindfulness meditation and a game to match each staff member to his/her/their baby or childhood photo.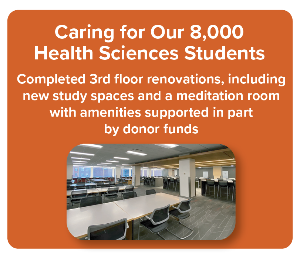 Our 3rd floor renovation project was completed in late 2020, providing new and refreshed spaces for our 8,000 health sciences students. While we were unable to open our doors to all students at OSU due to COVID-19 distancing guidelines, we were able to create and maintain a safe environment for our health sciences students and Medical Center faculty, staff and clinicians.
3rd floor spaces include a general study zone, a silent study zone (new for the library), and a medical student zone (to replace existing medical student space in Meiling). A meditation/prayer room was also included on the 3rd floor, with amenities supported in part by donor funds.
See our 3rd floor renovation highlights page for more photos and details about the renovation.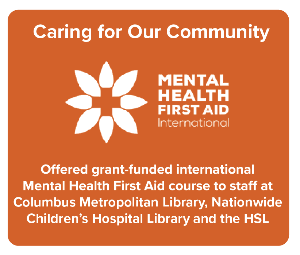 Our outreach librarians were able to offer the grant-funded international Mental Health First Aid course to staff at Columbus Metropolitan Library, Nationwide Children's Hospital, and the Health Sciences Library. This course provided training to library staff to assist those in our community who might be looking for mental health support.
---
Your Contact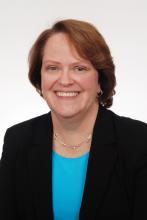 Assistant Vice President, Health Sciences
Director, Health Sciences LIbrary