George W. Paulson Scholar-in-Residence Reception
Join us at the Medical Heritage Center (MHC) on October 12, 2023, to celebrate the publications of George W. Paulson Scholars-in-Residence Drs. E. Christopher Ellison, Patricia T. Gabbe and Douglas Rund.
Image

The reception will be held as an in-person event only. Brief remarks by each scholar about their publications and research experience will take place at 5 p.m.
List of Publications and How to Order
Honoring the Past and Leading for the Future: The History of The Ohio State University Department of Surgery edited by E. Christopher Ellison, MD and Timothy M. Pawlik, MD ($30 plus tax)
Saving Babies: The Moms2B Story by Patricia T. Gabbe, MD, MPH, FAAP ($25 plus tax)
A Specialty Indeed: The History of Emergency Medicine at The Ohio State University by Douglas A. Rund, Richard N. Nelson, David P. Bahner and Jeffrey M. Caterino ($45 plus tax)
The scholars will be available for book signings. You may complete this webform or visit go.osu.edu/MHCOpenHouse to pre-order one or more scholars' books in advance of the open house – credit cards accepted. Books may be delivered to your address or picked up at the open house. Use the QR code above or visit go.osu.edu/mhcopenhouse to order books by October 4 for receipt before the event date.
Please note: A limited number of books will be available for purchase at the event and payment will be via personal check only.
Event Location
The Medical Heritage Center is located at:
The Ohio State University
Prior Hall
376 W. 10th Ave.
Columbus, OH 43210
Registration and Questions
Attendance registration is requested: go.osu.edu/ScholarRSVP
Email Kristin.Rodgers@osumc.edu with any questions.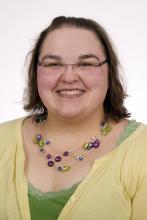 (she/her/hers)
Collections Curator
Medical Heritage Center