We're Hiring! Research Librarian (tenure-track faculty position)
Learn more about our Research Librarian Position during an informative session on September 7th at 12:30 p.m. EDT. Click here to register for the information session.
Research Librarian
Classification: Assistant Professor
Working Title: Research Librarian
Reports to: Assistant Director, Research and Education
The Ohio State University Health Sciences Library (HSL) seeks an innovative, motivated and collaborative professional for the tenure-track faculty position of Research Librarian. As part of the Research and Education liaison team, the Research Librarian will develop and provide instruction and consultations in classroom, small group, and individual settings and also produce online guides and learning materials that support the research efforts of biomedical and health sciences basic scientists. The successful candidate will engage with faculty, staff, and students and develop expertise to inform and enhance the research enterprise.
Note: Individuals interested in this faculty position must submit a curriculum vitae and cover letter as one PDF and complete the application on The Ohio State University Wexner Medical Center career site: job ID 69096.
Responsibilities
80% Librarianship (Assigned Professional Time)
Develops expertise in areas of interest to basic scientists, such as publication metrics/bibliometrics, data management planning and journal/funder requirements, genetic information databases, open access and open science, and expert comprehensive searching for the purposes of grant and/or IRB submissions and systematic, scoping or other review types. Within an appointment-only research consult model, provides in-depth consultations connected to these areas.
Develops, implements, and assesses strategic instructional and curricular programs or courses through a variety of methods and formats aimed at the information needs of basic scientists in the health sciences, primarily but not limited to the College of Medicine.
Engages in successful relationships with faculty, students, and staff in assigned areas, and collaborates with other librarians and research-oriented units across the medical center and University as appropriate.
Stays abreast of new tools and approaches to partner with and support the research community.
Serves on Health Sciences Library, University Libraries, and University committees and working groups and collaborates with university centers, offices, and other librarians as appropriate. Participates in strategic planning and goals setting at the Health Sciences Library, including leading initiatives as appropriate.
20% Scholarship and Service (Unassigned Professional Time)
Required Qualifications
Master's degree in library and information studies from an ALA-accredited program or a comparable graduate degree from a non-U.S. university, reviewed on a case-by-case basis; or a PhD or other terminal degree in a biomedical, biological/life sciences, biologically-oriented chemistry, or bioinformatics field with demonstrated interest and/or expertise in health sciences librarianship.
Experience with health sciences and/or STEM database searching and familiarity with common information workflows in scientific research settings
Comfort with scientific terminology, methodologies, and the evolving health sciences information landscape
Able to take initiative, lead individual efforts, prioritize and scale services; willingness and courage to try new ventures
Preferred Qualifications
Undergraduate or graduate degree in a biomedical, biological, life or health sciences field
Minimum 2-4 years of experience in an academic, life, or health sciences library
Ability to adapt and work well within a complex, changing environment
Documented evidence of ability to lead projects and initiatives relevant to research and education within an academic or health sciences library
Experience in a research/academic laboratory setting
Rank and Salary
This is a full-time, regular, 12-month appointment as a tenure-track faculty member. The candidate will be required to meet university and Libraries requirements for promotion and tenure. Salary and faculty rank at either Assistant Professor, Associate Professor, or Professor are dependent on qualifications and experience. Targeted hiring minimum is $65,000/year.
Benefits
The university offers competitive benefits in the form of 22 days' vacation, 15 days' sick leave, 10 holidays, hospitalization, major medical, surgical-medical, dental, vision, long-term disability insurance, and life insurance at 2.5 times one's annual salary. State and alternative retirement choices are also available.  See the summary of benefits for more information.
The Ohio State University is an equal opportunity employer. All qualified applicants will receive consideration for employment without regard to race, color, religion, sex, sexual orientation or identity, national origin, disability status, or protected veteran status.  The Ohio State University is a member of the Association of College and Research Libraries (ACRL) Diversity Alliance.
Discover Ohio State
For 151 years, The Ohio State University's campus in Columbus has been the stage for academic achievement and a laboratory for innovation. The university's main campus is one of America's largest and most comprehensive. As Ohio's best and one of the nation's top-20 public universities, Ohio State also includes a top-rated academic medical center and a premier cancer hospital and research center. As a land-grant university, Ohio State has a physical presence throughout the state, with campuses and research centers located around Ohio.
About the Health Sciences Library
Located on the south end of the main Columbus campus of OSU, the Ohio State University Health Sciences Library primarily serves all faculty, staff and students of the Wexner Medical Center and the five Health Sciences colleges (Medicine, including the School of Health and Rehabilitation Sciences, Nursing, Dentistry, Optometry, and Public Health) via its physical and vast digital resources, along with the expertise of its librarians and technical staff.  The specialized expertise of the Health Sciences Library supports research and discovery – from helping faculty focus their funding proposals and research questions, to improving faculty access to their most-needed journals, to conducting systematic literature reviews, to creating original medical illustrations that strengthen faculty research submissions to leading journals. Though administratively separate from University Libraries, faculty librarians are part of the University Libraries faculty unit, and the libraries collaborates in a variety of ways, including collections, teaching and learning, and digitization efforts.
About The Ohio State University Libraries
The Libraries promotes innovative research and creative expression, advances effective teaching, curates and preserves information essential for scholarship and learning at Ohio State, and shares knowledge and culture with the people of Ohio, the nation, and the world. Libraries faculty and staff live these values in all that we do: Discovery, Connection, Equity, Integrity, and Stewardship. Learn about our strategic directions at library.osu.edu/strategic-directions.
The Libraries' greatest resource is our faculty and staff. Their expertise produces value beyond the collections and their commitment to continual improvement and innovation is one of the most significant ways the Libraries meets the diverse and evolving information needs of university students, faculty, staff, alongside scholars throughout Ohio and the world.
Your Contact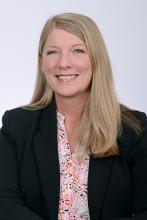 (she/her/hers)
Interim Director
Professor, Assistant Director
Research and Education Services