We're Hiring! HSL Student Positions Available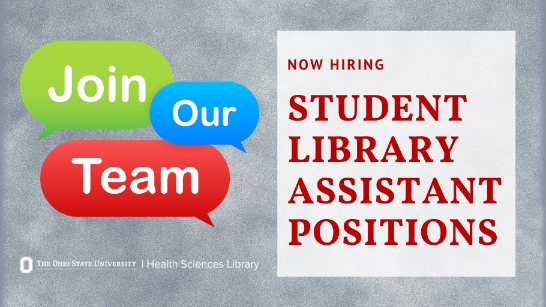 Library jobs are currently available for students enrolled in a degree-granting program at the Ohio State University.
Job Title: Student Library Assistant 1
Department: Health Sciences | Library-JM
Job Description:
Functions as a Student Library Assistant 1 to assist patrons of the Health Sciences Library; charges and discharges library materials using online circulation system (OSCAR); assists patrons with the operation of online library catalog (OSCAR), OhioLINK and online databases and library equipment; searches for books in the stacks; retrieves paged books from the stacks; pages books; answer phones and takes messages; assists patrons with questions; refills and maintains printers and photocopiers; clean public computers; perform light reference work; re-shelves books and journals and maintains book stacks; other duties and special projects as assigned.  
Interested in joining our team?
Click on the Current Openings link below
Log in using your name.# and password
You will be redirected to your Workday home page.  From there, click the "Career" icon
Click "Search for Faculty and Staff Jobs"
Use the filters in the left column to "Search Student Jobs"
Or type the Job Requisition ID "R42804" in the search bar.