Student Work Opportunity: EdTech Incubator

We're hiring!
The EdTech Incubator (ETI) within the Health Sciences Library is currently seeking enthusiastic undergraduate student researchers for part-time school-year positions.
Job Title: EdTech Incubator Student Assistant
Department: Health Sciences | Library-JM

Job Description: 
The duties of a Student Assistant include the following:
Providing a variety of technical and supportive tasks, such as troubleshooting technical and procedural problems with equipment and facilities.
Conducting guided tours and delivering overviews of the incubator, encompassing its equipment and spaces.
Assisting in demonstrations and research activities.
Ensuring the maintenance and cleanliness of equipment.
Minimum Education and Experience:
Must be enrolled in a degree-granting program at Ohio State; basic office and computer skills required.
Individuals with an interest in and ideally experience with various incubator-related technologies, such as 3D printing, anatomy visualization, virtual reality, simulation, and audio/video production, are desired. Preference is given to those who are enthusiastic about hands-on lab work, including learning how to operate 3D printers and create digital models.
Interested in joining our team? 
Find the position on handshake.osu.edu.
Visit handshake.osu.edu and click on "Access Handshake".
Log in using your lastname.#@osu.edu.
Navigate to "Jobs" on the left navigation menu.
OR
Apply directly through Workday.
Visit workday.osu.edu and log in.
Navigate to the "Career" tab and "Search Student Jobs." 
Input Req # R89383 in the "Search" box.
Click on the position title (in blue), and "Apply".
Your Contact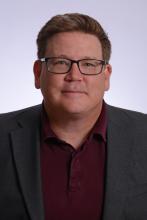 (he/him/his)
EdTech Incubator Coordinator
EdTech Incubator