Resource Update: Legacy RefWorks Retired June 28
ProQuest has retired the Legacy RefWorks system. Legacy RefWorks are no longer available as of June 28, 2023.
Ohio State Legacy RefWorks accounts that meet the following criteria have automatically been upgraded to the current RefWorks system:
Contain 10 or more citations -AND-
User has logged in at least once since January, 2019 -AND-
Account has not already been upgraded individually
If you meet all these criteria, you do not need to take any action; your account should have been automatically upgraded by June 30 and you should have received a notification from RefWorks once the upgrade was completed. You can learn more about the current RefWorks by reviewing the RefWorks User Guide.
Please note: Accounts that were not upgraded can no longer be accessed as of June 28, 2023. Data from these accounts will be completely deleted after 120 days in accordance with the Ex Libris Data Retention Policy.
If you have questions or have trouble accessing your account, please check in with an Ohio State University Libraries or Health Sciences Library librarian.
Ohio State University Libraries users: Leta Hendricks(.3)
Health Sciences Library users: Anna Biszaha(.2)
Your Contact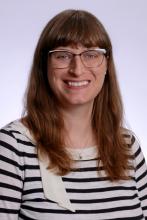 (she/her/hers)
Assistant Professor
Librarian
Research and Education
Library Liaison for:
College of Dentistry
School of Health and Rehabilitation Sciences