HSL to Install Soundproof Meeting Pods
We Heard Your Feedback
In response to library visitor feedback, the Health Sciences Library will soon install two "phone booth" pods in library spaces.
"We are testing these pods, anticipating that they will be perfect for our visitors with an unexpected Zoom or Teams meeting, or those needing to make a private, confidential phone call," says Lynda Hartel, director Health Sciences Library. "We're excited to add these to our library spaces."
Each pod will be able to accommodate a single user. The pods are soundproof and have lighting, air circulation fans, power outlets, height-adustable stools and compact work surfaces. One pod will be located on the library's 1st floor. The second pod will be on the 3rd floor in a common space located outside of the dedicated study areas. Expected install timeframe is around the end of July.
Pod usage will initially be first come, first served, and usage guidelines will be posted on/near the pods. A reservation system may be implemented in the future.
If you have questions about the pods, please send us an email at hslinfo@osumc.edu.
Your Contact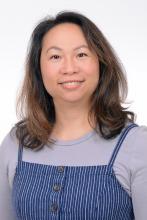 (she/her/hers)
Marketing and Communications Coordinator