HSL to Install Soundproof Meeting Pods
We Heard Your Feedback
In response to library visitor feedback, the Health Sciences Library has installed two Flexi-PODs in library spaces.
"We are testing these PODs, anticipating that they will be perfect for our visitors with an unexpected Zoom or Teams meeting, or those needing to make a private, confidential phone call," says Lynda Hartel, director Health Sciences Library. "We're excited to add these to our library spaces."
Each Flexi-POD, or "Flexible Privacy-on-Demand" unit, can accommodate a single user. The PODs are soundproof and have lighting, air circulation fans, power outlets, height-adustable stools and compact work surfaces. One POD is located on the library's 1st floor. The second POD is on the 3rd floor in a common space located outside of the dedicated study areas. PODs were installed in mid-September.
POD usage will initially be first come, first served, and usage guidelines are posted on each POD. A reservation system may be implemented in the future. A QR code for users to provide feedback directly to the library is also on posted signage.
If you have questions about the pods, please send us an email at hslinfo@osumc.edu.
Your Contact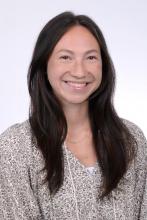 (she/her/hers)
Facilities Support Services Specialist