HSL Partners with the Ohio Innovation Exchange (OIEx)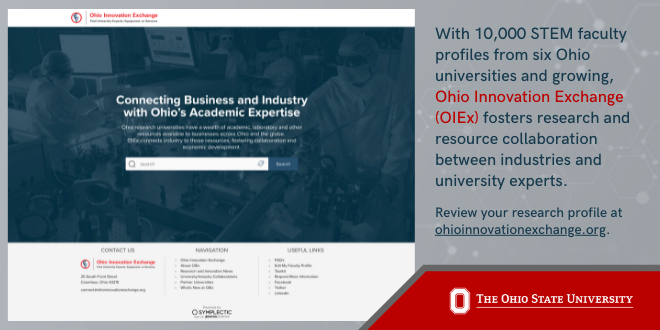 The Health Sciences Library (HSL) has partnered with the Ohio Innovation Exchange (OIEx) to develop and grow the platform's reach and engagement. OIEx, a powerful centralized web portal, connects university faculty to various resources by consolidating research information from multiple universities. By enhancing visibility, OIEx introduces new paths for research funding and creates opportunities for collaboration outside of the traditional university setting. As a founding partner, The Ohio State University and the Health Sciences Library have been integral in the development of the platform.  
To grow strategic engagement efforts, the OIEx team brought on engagement strategist Jessica McIntosh, a member of the HSL staff. Jess helped to develop the Library Engagement, Advocacy & Planning Taskforce (LEAP), a new initiative to help inform and engage with librarians at participating OIEx universities. LEAP is focusing on developing and piloting a strategy for exploring how partner academic libraries can help grow campus awareness, institutional adoption and support for OIEx.
The OIEx platform makes it easier for librarians and researchers to access specific expertise and resources from Ohio universities and to connect to industries around the state. Additional ways that OIEx can benefit our communities: 
Junior faculty
Broadening reach and increasing impact with additional research access points 
Finding connections, potential collaborators and mentors throughout the state 

Facilitating connections to university institutional repositories and academic websites/content 
Tenured faculty 
Providing a place to showcase success and connect to partners around the state 

Generating an inclusive profile where publications and external links can be highlighted 
Students 
Finding mentors/advisors to guide research goals 

Finding research equipment and services to utilize  

Exploring ideas for graduate programs or research  
Campus and medical center communications are forthcoming, as well as support materials to assist faculty with accessing their research profiles on OIEx.  
As LEAP continues to develop best practices and tools for educational growth, your feedback is appreciated. Please email Jess with any questions or comments. 
Your Contact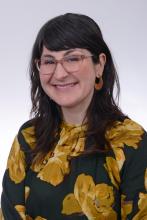 Library Engagement Strategist, Ohio Innovation Exchange (OIEx)
Research and Education