Expanded HSL Anti-racism Resources Include New Book Collection
As part of the Health Sciences Library's commitment to diversity, equity and inclusion, the library recently expanded its collection of anti-racism and diversity books. Thirty-three new titles are available for loan as eBooks or as print copies through requests in the library catalog. Thank you to the Warner Family Endowment for Medical Student Reading and Reflection for generously funding these new titles, including a print book set for the medical student commons area.
A complete list of the new books can be found in the Health Sciences Library's Antiracism Resource Guide. This guide predominantly provides resources for health sciences faculty and staff who are looking to facilitate classroom or workplace discussions and activities about race and efforts to eliminate racism and inequalities. The guide contains a select list of resources recommended by faculty and staff at Ohio State, as well as by professional health organizations or institutions.
Interested in borrowing one of the new titles? More information on how to borrow and request materials from the library can be found by visiting the Borrow and Request Materials webpage.
Your Contact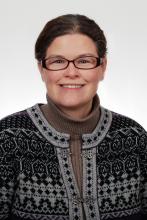 Assistant Professor
Librarian
Research and Education
Library Liaison for:
Chaplaincy and Clinical Pastoral Education
Clinical Nursing (OSUWMC and James Nursing staff)
College of Nursing
College of Optometry