Student Research Workshop Series
Back for 2023—student research workshop series
The Health Sciences Library presents a series of online workshops for undergraduate, graduate and professional health sciences students preparing to work on in-depth research projects. Students outside of the health sciences are welcome to register, but please be aware that the content of the presentations will be focused on the health sciences.
Each workshop in the Student Research series will address a different aspect of performing research and literature searches, and will act as a stand-alone session. Registration for the complete series is welcomed, but not required. All workshops will be live (i.e., synchronous) via Zoom.
Please note: workshops will not be recorded, but slides will be shared with participants.
If you require an accommodation such as live captioning or interpretation to participate in an event, please email Katherine Hoffman or call (614) 292-4861. Requests made by one week prior to the workshop date will generally allow us to provide seamless access, but the university will make every effort to meet requests made within the one-week timeframe.
Follow the links below to register for individual workshops. Seating is limited and registration is required.
Thursday, March 23, 2023, 5 – 6:30 p.m. EDT — Introduction to Systematic & Scoping Reviews
Join us for an introduction to systematic and scoping reviews. Systematic and scoping reviews are specific forms of review-based research methodology. This workshop will provide an introduction and overview of the process of conducting these specialized literature reviews. Topics will include defining (or clarifying) what a systematic or scoping review is, a discussion of standards and guidelines, the main steps and timeline of a project, and additional resources to help you complete a systematic or scoping review.
 REGISTER for Intro to Systematic & Scoping Reviews
Thursday, March 30, 2023, 5 – 6:30 p.m. EDT — Introduction to Comprehensive Searching
Join us for an introduction to comprehensive searching. Many different types of projects may require that you perform a more thorough or comprehensive search to obtain all the relevant literature. This workshop will present different strategies you can use to help strive for comprehensiveness. Topics covered will include database selection, search term development, basic search syntax and citation searching.
 REGISTER for Intro to Comprehensive Searching
Thursday, April 6, 2023, 5 – 6:30 p.m. EDT — Advanced Searching Techniques
This workshop is for those who already have a good grasp of the foundations of comprehensive searching. During this workshop, we will dive into some of the more nitty-gritty aspects of searching and provide strategies to take control of your search. Topics to be covered will include a review of basic search syntax and an introduction to more advanced search syntax, database-specific search features or quirks, search translation and search comparision or testing.
 REGISTER for Advanced Searching Techniques
Thursday, April 13, 2023, 5 – 6:30 p.m. EdT — Tools to Manage the Research Process
There are many tools available to help you keep your research organized. During this workshop, we will provide an overview of some of the most popular tools that are available through the Health Sciences Library, such as personal database accounts, saved searches and search alerts, reference managers and Covidence.
 REGISTER for Tools to Manage the Research Process
Your Contact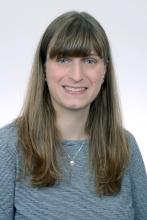 (she/her/hers)
Assistant Professor
Librarian
Research and Education
Library Liaison for:
College of Dentistry
School of Health and Rehabilitation Sciences