Healthy Habits, Healthy Lifestyle
Check back often for great resources from the Library for Health Information and our consumer health education partners.
Nutrition Tips: DASH to Healthy Eating
Check out our latest video focused on nutrition, in which Liz Weinandy, a dietitian from The Ohio State University Wexner Medical Center's Nutrition and Dietetics Department, introduces us to the DASH plan - Dietary Approaches to Stop Hypertension - and shows us how a healthy approach to the food that we eat can have far-reaching benefits for more than hypertension.
Health Online: Finding Information You Can Trust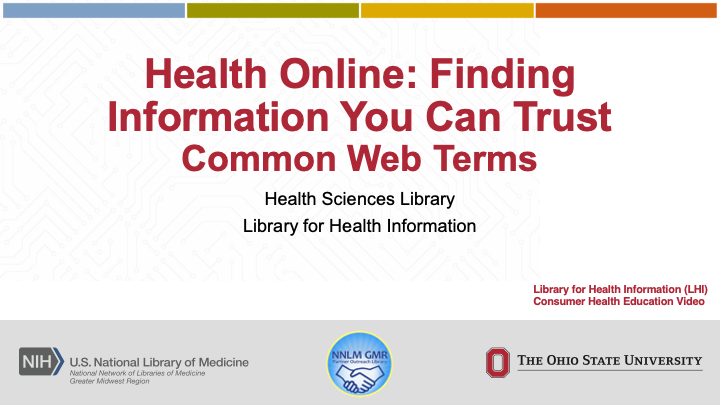 The Library for Health Information has developed a series of six short videos to help you learn more about how to find trustworthy health information online. The video series includes website terminology and tips for searching and understanding health information on the web.
Some of the information contained in the videos was developed by Wisconsin Health Literacy, a non-profit organization based in Madison, Wisconsin. The video project was funded in whole or in part with Federal funds from the Department of Health and Human Services, National Institutes of Health, and the National Library of Medicine under a grant with the University of Iowa.
NNLM Reading Club Recordings
Resurrection Lily, by Amy Byer Shainman
Amy Byer Shainman, author, filmmaker, and BRCA Responder, joined Ellen Matloff, a Certified Genetic Counselor, on March 11, 2021, to discuss and answer your questions about hereditary cancer syndromes in this latest NNLM Reading Club selection. Watch the recorded discussion below or on YouTube.
Becoming Dr. Q: My Journey from Migrant Farm Worker to Brain Surgeon, by Dr. Alfredo Quiñones-Hinojosa
If you're looking for an inspiring story, look no further. January's NNLM Reading Club featured a live virtual discussion and Q&A with Dr. Q. View the recording below or on YouTube.
Pleased to Meet Me, by Dr. Bill Sullivan
Ever wonder if your genetics has anything to do with your personality and behaviors? November's NNLM Reading Club featured Dr. Bill Sullivan and his book, Pleased to Meet Me. If you missed the webinar, don't worry! You can view the recording below or on YouTube.
We Live For The We: The Political Power of Black Motherhood, by Dani McClain
Explore the topic of Black motherhood in this powerfully honest book. Author McClain uses a combination of stories and data to illuminate the challenges of being a Black mother in 2020. McClain is joined by Andrea Collins for a live discussion. If you missed the webinar, you can watch the video below or on YouTube.
The Digital Doctor, by Dr. Robert Wachter
Learn more about what to expect from your doctor, especially in this digital age of virtual appointments. If you missed the NNLM reading club webinar, you can watch the video below or on YouTube.