Now Hiring: Medical Heritage Center Archivist
We're hiring!
Job Title: Archivist
Department: Health Sciences Library
As an archivist within the Medical Heritage Center department of the Health Sciences Library, you will play a pivotal role in managing complex archival description and processing projects. You will oversee the logistics of archival materials for the unit and partner units, ensuring the preservation and accessibility of historical records.
Key Responsibilities:
Utilize your experience in archival processing, comprehensive knowledge of archival standards and best practices, and expertise in effectively leading and executing complex projects to manage the processing of archival collections, which vary in size, format, and complexity.
Independently complete routine processing tasks while also taking the lead in collaborative projects aimed at processing collections alongside colleagues throughout the Medical Heritage Center.
Apply your archival knowledge and experience to successfully develop workflows and lead intricate projects involving the creation, enhancement, and remediation of archival descriptions.
Collaborate with colleagues both within and outside of the Medical Heritage Center to determine project priorities and expected outcomes.
Develop and maintain systems and policies for the creation and preservation of digital content through research into national and international standards and practices, working in close collaboration with University Libraries.
Prepare, process, and catalog both digitized and born-digital archival materials, encompassing documents, photographs, and audio/visual materials.
Analyze, conduct research, develop, and maintain workflows, as well as generate metadata to ensure the long-term care and discoverability of born-digital and digitized materials.
Minimum Education and Experience:
A Bachelor's degree or equivalent experience is mandatory. Additionally, a minimum of 2 years of relevant experience is required, with a preference for 2-4 years of relevant experience. A Master's degree in a relevant field with a focus on archives is highly desired.
Required Qualifications:
Bachelor's degree in a relevant field with a specific focus on archives, or equivalent combination of education and experience.
A minimum of 2 years' experience in processing archival collections, including a demonstrated ability to successfully process collections of high complexity.
Proficiency in digital collection processing, showcasing a clear understanding of archival description and materials, along with familiarity with digital project management and online publication. Knowledge of library metadata, encoding, and content standards (EAD, MARC, RDA, DACS) is essential.
An understanding of digital preservation principles, digital formats, and concepts related to digital use, migration, and reformatting.
The ability to effectively manage and provide support for digital imaging projects.
Outstanding interpersonal communication skills, allowing for effective communication with multiple constituencies through various communication channels.
Demonstrated ability to work both independently with minimal supervision and collaboratively as part of a team.
Proficiency in using MS Office products.
Discover Ohio State
For 151 years, The Ohio State University's campus in Columbus has been the stage for academic achievement and a laboratory for innovation. The university's main campus is one of America's largest and most comprehensive. As Ohio's best and one of the nation's top-20 public universities, Ohio State also includes a top-rated academic medical center and a premier cancer hospital and research center. As a land-grant university, Ohio State has a physical presence throughout the state, with campuses and research centers located around Ohio.
About the Health Sciences Library
Located on the south end of the main Columbus campus of OSU, the Ohio State University Health Sciences Library primarily serves all faculty, staff and students of the Wexner Medical Center and the five Health Sciences colleges (Medicine, including the School of Health and Rehabilitation Sciences, Nursing, Dentistry, Optometry and Public Health) via its physical and vast digital resources, along with the expertise of its librarians and technical staff. The specialized expertise of the Health Sciences Library supports research and discovery – from helping faculty focus their funding proposals and research questions, to improving faculty access to their most-needed journals, to conducting systematic literature reviews, to creating original medical illustrations that strengthen faculty research submissions to leading journals. Though administratively separate from University Libraries, faculty librarians are part of the University Libraries faculty unit, and the libraries collaborates in a variety of ways, including collections, teaching and learning and digitization efforts.
Your Contact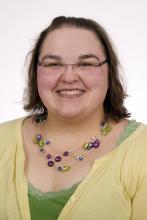 (she/her/hers)
Collections Curator
Medical Heritage Center